Atlantic crossing rowing crew airlifted to safety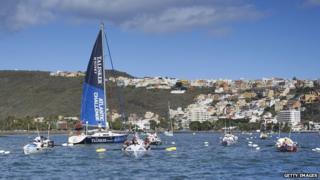 A team of British rowers taking part in a trans-Atlantic challenge had to be airlifted to safety when their vessel started taking on water during a storm.
The Team Atlantic Splash crew from Kent, Sussex and Essex were five days into the race when they were rescued.
They hope to recover their boat and re-join the 3,000-mile race in a few days.
Skipper Neal Marsh, 44, of Worthing, said: "My priority is the safety of the team and I'd like to thank everyone involved in our rescue."
The vessel, Mission Atlantic, started taking on water after a pump seal failed during a heavy storm about 130 miles south west of Tenerife.
Mr Marsh said: "We'd gone from 12th place to fourth overnight and then the storm hit us.
"We were all hit with the same problem, but unfortunately for us we had this problem with the membrane seal on one of our bilges.
"The issues was that because of the amount of water on and around the boat I couldn't keep the crew on the boat for another 24 hours [until it was repaired].
"It was fairly extreme. We were airlifted off in 35 mph winds and 25ft waves. If we had been 10 miles further out the helicopter wouldn't have been able to airlift us off.
"The rescue actually went like clockwork, all the training came back."
'On way back'
Mr Marsh, Bastien Leclair, 30 and Tom Hyland, 24 - who all live in Worthing, Marc Alderman, 28, from Folkestone, Kent, and Terry Munson, 27, from Essex, were initially all flown back to the UK
Having decided to continue with the challenge, they boarded a flight back to the Canary Islands on Friday and hope to recover their boat, which was fitted with a parachute anchor and GPS tracker, in a few days.
Mr Marsh said: "Provided we get back into the race within the next seven to 10 days - we know we're faster than any other boat out there - we should be able to catch up with them and maybe even get a place.
"It's been a real epic tour. We know more than ever that we're going to finish it."
They were taking part in the race from the Canary Islands to the Caribbean to raise £200,000 for Great Ormond Street Hospital, the Tall Ships Youth Trust, the British Heart Foundation and the Macular Society.
'Toughest rowing race'
Seventeen teams, including Team Atlantic Splash, started the Talisker Whisky Atlantic Challenge on 4 December.
Chief executive of race organiser Atlantic Campaigns, Carsten Heron-Olsen, said: "The safety of our crews is of the utmost importance.
"A race support vessel is always on the water offering 24-hour support. Safety advisers constantly monitor the fleet and we work very closely with the maritime authorities in the Canary Islands and Antigua."
The challenge which is expected to take about 50 days, also features the Row2Recovery team which is crewed by four soldiers, including two who lost limbs in Afghanistan.
It is billed as the world's toughest rowing race.