PC Ian Dibell awarded George Medal for gallantry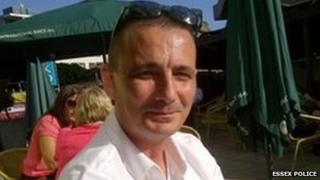 A police officer shot dead when he tackled a gunman in the street near his home has been posthumously awarded the George Medal for gallantry.
PC Ian Dibell, 41, died while trying to stop Peter Reeve, who had fired at a couple in Clacton, Essex, in July 2012.
He is the first officer in the country to receive the award in 21 years and the first ever in Essex.
Essex Chief Constable Stephen Kavanagh said the award honoured Mr Dibell's "immense courage and sacrifice".
"Essex Police could not be more proud to learn that PC Ian Dibell has been awarded the George Medal," he said.
"PC Dibell paid the ultimate price for his actions, but he will never be forgotten by his colleagues in Essex Police or the people of this county.
"He has been recognised posthumously for his immense courage and sacrifice.
"He selflessly and knowingly put his own life at risk to protect the innocent people of Clacton."
'Extraordinary act'
Peter Reeve, 64, had fired shots at his neighbour Trevor Marshall and Mr Marshall's girlfriend, Katarzyna Karolak, and then chased Mr Marshall in his blue Toyota.
Mr Dibell leaned into the car window to try and grab the gun, and a bullet passed through his hand and into his chest.
The father-of-two ran back to his house to get his warrant card when he realised a gunman was on the loose, meaning that he was on duty when he died.
Mr Reeve took his own life in a churchyard in Writtle, near Chelmsford, the next day.
The George Medal is given in recognition of acts of great bravery.
It is primarily a civilian award and just over 2,100 medals have been awarded since its inception in 1940.
Det Insp Paul Dibell said his brother "did an extraordinary act in protecting the public".
"His bravery, professionalism and happy memories of him as my brother and colleague will never be forgotten."
In October, PC Dibell was honoured with a national Police Bravery Award.