Thames crossing option dropped by government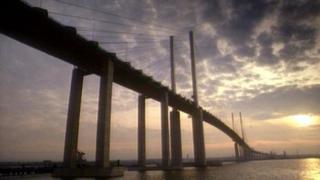 A new Thames crossing will be built next to the existing QE2 bridge or across the green belt, it is confirmed.
Of the three options put forward by the government, one - which would have connected the A2 in Kent with the A1089 in Essex - has been dropped.
The remaining two options are to be subject to "further work", Transport Secretary Patrick McLoughlin said.
Kent County Council said it was disappointed no final decision had been made.
The first option is for another crossing next to the existing A282 Dartford-Thurrock crossing and the second would connect the M2 with the A13 and the M25 between junctions 29 and 30.
'Tough decisions'
It is understood no decision will be made now until at least May 2014.
The existing Dartford to Thurrock crossing, which consists of the QE2 Bridge and a tunnel, is used by 140,000 vehicles a day.
Mr McLoughlin said: "Ruling out the least attractive option now gives some clarity for local residents and businesses.
"We are committed to making a decision on the location of the new crossing as soon as possible, but we recognise that whatever crossing location is chosen it will have significant impact for people in the area and the economy.
"These are tough decisions to be made and must not be taken lightly."
'Allowed to drift'
Paul Carter, leader of Conservative-controlled Kent County Council, said he was "disappointed" no decision had been made.
"It is a massively important project to unlock significant growth in the Thames gateway," he said. "And we will be asking ministers for a rapid decision on the two options that remain.
"It is too vital a project to be allowed to drift any longer."
The council restated its support for option C, which it said offered "the best long-term logical solution to the transport challenges".
Conservative Dartford MP Gareth Johnson said: "I am delighted that this announcement has ruled out the Swanscombe Peninsula as a site for any new Thames Crossing.
"This will be welcome news for local residents and for developers who are keen to make a significant investment in that area."