Lewisham hospital criticised over Kent child death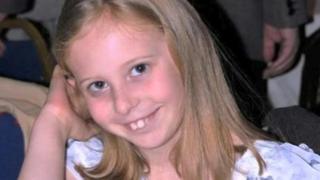 A girl who died on Christmas Day hours after being discharged from hospital may not have been allowed to leave if a more senior doctor had seen her, a coroner said.
Rhianna Rawding, aged nine, from Rochester, Kent, was treated by a junior doctor at University Hospital Lewisham last year.
But seven hours after being sent home, she collapsed and stopped breathing.
The hospital said it would examine the inquest outcome before commenting.
The hearing in Southwark was told Rhianna suffered from urinary tract infections for years, but on this occasion her parents said something was not right.
Coroner Dr Philip Barlow heard the junior doctor who saw her may not have communicated all the information when he discussed her case with a senior registrar.
The junior doctor was on the team who tried to resuscitate Rhianna, just hours later when she was brought back by ambulance, the inquest heard.
She later died of septicaemia.
'Further legal action'
The coroner, who recorded a narrative conclusion, said it was highly likely that if Rhianna had been kept in, her deterioration would have been noticed and acted on.
He said retaining her in hospital for a few hours of observation would have made a difference but he said he could not go as far as to say it would have saved her life.
The coroner concluded he was satisfied that since Rhianna's death, the hospital had changed training policies and admissions guidelines.
The family are considering taking further legal action.
After the hearing, her parents said they believed she would still be alive if she had not been sent home from hospital.
Rhianna's father, Justin Rawding, said: "On a personal level I feel she was let down by the hospital."
Her mother, Gemma, said: "Bereavement is never easy for anyone but when it's your child it's very hard."
A statement issued by Lewisham and Greenwich NHS Trust, which runs the hospital, said: "We offer our sincere condolences to Mr and Mrs Rawding for the tragic death of their daughter Rhianna.
"We will be examining the outcome of the inquest in detail before commenting further.
"At this difficult time our thoughts are with Rhianna's family."