Police record theft of two £1 coins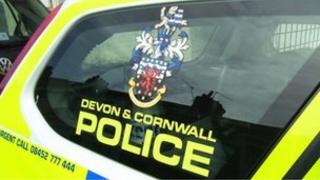 Two £1 coins, a tin of biscuits and a pint of milk have been reported by police officers as stolen from their stations.
Crime logs involving more than 25 items reported stolen from Devon and Cornwall Police employees on the force's premises between 2010 and 2013, have been submitted.
A gym belt, gift card, dress and two phone chargers were also logged.
The force said it encouraged staff to report all thefts regardless of value.
A freedom of information request by BBC News revealed 18 crime logs had been made where an employee's personal item had been stolen from a police premises.
Phone chargers, a debit card, torch, designer coat, cash and a number of toiletry items - including perfume, eyeliner, eye shadow, foundation and aftershave - were also reported stolen.
Among the food items which disappeared was an unused pint of skimmed milk which had initials marked on the lid.
The force said one item had been "part-recovered" which was a vehicle front registration plate.
A spokesperson from Devon and Cornwall Police said: "Some items reported as stolen in police premises are low value and wouldn't justify a police investigation.
"We encourage all staff to report thefts regardless of value of which there are only a very small number as you would expect.
"In the spirit of openness and transparency these details are recorded and made available to the public through freedom of information requests."