Kenneth Pritchard ex-policeman tobacco smuggler sentenced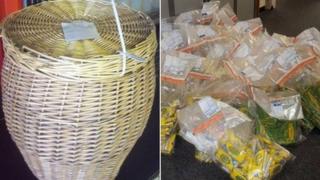 A retired policeman who attempted to smuggle a wicker basket filled with tobacco into the UK has been sentenced.
Kenneth Pritchard, 64, was arrested by Border Force officers at Portsmouth Ferry Port in June.
He has been sentenced to eight weeks in jail, suspended for 12 months, for evading £17,500 in excise duty.
A HM Revenue & Customs (HMRC) spokesman said: "Pritchard, a former crime-fighter, now has a criminal record of his own."
The ex-policeman, who is retired in Malaga, Spain, attempted to smuggle the 85kg of hand-rolling tobacco pouches on 11 June 2013 from Cherbourg, France.
It is believed the Amber Leaf and Golden Virginia tobacco, hidden in the basket, suitcases, and boxes on a Land Rover Discovery, was headed for the Macclesfield area.