Oxford and Cambridge universities buy Lewis-Gibson Genizah collection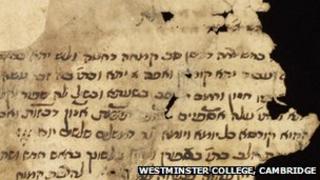 A fundraising appeal by Oxford and Cambridge universities to buy a collection of 1,000-year-old Hebrew and Arabic manuscripts has been successful.
The universities raised £1.2m to buy The Lewis-Gibson Genizah Collection from the United Reform Church's Westminster College.
The collection is made up of 1,700 document fragments saved from Cairo's Ben Ezra Synagogue.
Cambridge researcher Dr Ben Outhwaite said the collection was "precious".
He said the manuscripts offered "a unique and vibrant window into a lost age".
"Its fragments of sacred texts, legal documents and the writings of ordinary, everyday folk present a snapshot of life as it was lived in the Middle Ages."
The fragments were brought to England from Egypt in 1896 by twin sisters Agnes Smith Lewis and Margaret Dunlop Gibson and deposited at Westminster College.
The manuscripts will be digitised after conservation work in Cambridge.
The texts will then be divided between the University Library at Cambridge and the Bodleian Libraries at Oxford.
Dr Outhwaite said the libraries had "a responsibility to preserve such vital cultural heritage and ensure that - through digitisation, publication and interpretation - it is not locked away, but made as widely accessible as possible".
Donations towards the appeal included £500,000 from the Polonsky Foundation and £350,000 from the Littman Library of Jewish Civilisation.