Queen and Princess Margaret panto photos sell for £3,200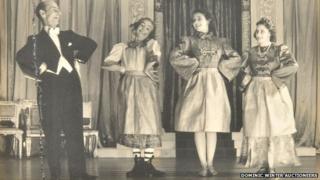 Two scrapbooks of photos showing a young queen and her sister in pantomime have sold for £3,200 at auction.
The teenage Princess Elizabeth and her younger sister Princess Margaret took to the stage in the 1940s, for shows including Cinderella and Aladdin.
The images are part of a royal archive, owned by two people connected with the Royal School in Windsor.
Dominic Winter Auctioneers in Gloucestershire had expected the scrap books alone to fetch up to £3,000.
Auctioneer Chris Albury said the royal archive, which also includes pantomime programmes and telegrams from the Royal Family, was "the most amazing" he had seen.
The photos of The Queen and the late Princess Margaret were taken between 1940 and 1944, in the Waterloo Chamber at Windsor Castle.
They were formerly owned by the families of Hubert Tanner, who was headmaster of the Royal School, and actor Cyril Woods, who directed and appeared in school performances.
The royal sisters had taken leading roles in Cinderella, Sleeping Beauty, Aladdin and Old Mother Red Riding Boots.