Mark Duggan inquest: Tottenham's police relations 'worse' since riot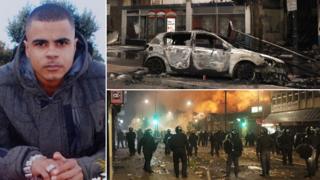 The inquest into Mark Duggan's death - which has concluded he was lawfully killed when he was shot by a police marksman - has placed the relationship between Tottenham's black community and the police under scrutiny. Have relationships got better or worse since his death?
On a warm August evening in 2011, Mark Duggan was shot twice by a police marksman.
Two days later, parts of the capital were ablaze and towns and cities across England were suffering their worst rioting since the 1990s.
The riots grew out of a demonstration organised outside Tottenham Police Station following Mr Duggan's shooting.
Koos Couvée, a reporter for North London and Herts Newspapers, said he was on the scene of the shooting 30 minutes after it happened.
"It was a very hot day and you felt something was brewing - that atmosphere continued all the way through to the riots," he said.
"When the riots started it was almost like a carnival atmosphere, and people have described it to me as a sense of release.
"But then obviously a lot of people lost their homes and businesses, which was the very dark side of it."
Promises of regeneration were made after the disorder but, for many people in Tottenham, nothing has changed.
Studies suggest a significant cause of the riots was "widespread anger and frustration" at the way police engaged with communities.
In particular, they highlighted the policy of stop and search, where officers are allowed to temporarily detain someone and search them if violence or weapons are suspected.
Worryingly, some fear relations between young people in the area and the police may have deteriorated further. Indeed, some fear the riots could happen again.
Ken Hinds, who has worked as a mediator between warring gangs in north London, said he thought relationships with the police had "got worse" since Mr Duggan's death.
Mr Hinds, who was at the Broadwater Farm riot in Tottenham in 1985, said he believed more riots were possible because of the way "the youth are treated by police".
In 2009 he was awarded £22,000 after being wrongfully arrested by British Transport Police. He said the "key to the problem" was stop and search, which he said was "simply racial profiling of black men aged between 15 and 40".
"I've been stopped more than 100 times in my life and it damages you," he said.
"You feel like you've been picked on and violated. You feel sometimes like you've been sexually exploited, because they are feeling you up.
"I believe things have got worse since the riots. The police and courts threw everything at convicted people and giving them massive sentences, even if they took a bottle of water, but we still haven't found out who killed Mark.
"The stuff that has come out of this inquest has been fascinating and damning against the police. Mark Duggan was no angel, but it looked like they made an example of him.
"It's still us versus them and it's not going to change until stop and search is abolished. It's not fit for purpose."
Figures from the Met regarding Haringey, the London borough which includes Tottenham, show that between November 2011 and October 2012, black people were nearly two-and-a-half times more likely to be stopped and searched than white people. And of those people stopped, 10.8% were arrested.
The following year, black people were just under two times more likely to be stopped and searched, with an arrest rate of 16.4%.
Similar views to Mr Hinds' on stop and search are heard when speaking to young men in Tottenham.
Nynver Miller, a student, said: "At first you feel, 'why are they stopping me?' But you get used to it.
"When you get those police officers who have a bad attitude... you know they are wasting their time, so sometimes it's just funny."
According to a recent Met report, 61% of people stopped and searched between October 2012 and October 2013 were aged between 10 and 24.
Mr Miller said trust between young people in Tottenham and police had always been low.
"That vibe had been there long before what happened to Mark Duggan - it's been like this since day one," he said.
His views were echoed by Wasim Glowacki, also a student, who said that trust had deteriorated.
"Things have got worse, not better, since the riots," he said.
"It feels like no-one really knows what happened with Mark Duggan. There are all sorts of stories with people saying one thing and police saying another - it's a mess."
Mr Hinds said in the days after the killing he was contacted by Mr Duggan's father, Bruno. In the Met's report into the riots - Four Days in August - he is referred to as "Mr D".
"Bruno asked me to talk to police and act as a mediator," he said.
"The police hadn't told the family that Mark had been killed and there was a lot of anger. The whole thing could've been averted by going to the family."
Mr Couvée said nothing seemed to have fundamentally changed since the riots.
"It is the perceived lack of access to justice and equal rights from generation to generation," he said.
"And there's a feeling of absolutely no hope for a lot of young people - and that's quite a toxic combination.
"The riots could happen again if the right circumstances conspire. I don't think the conditions for it to happen have been removed."
Alan Stanton, a ward councillor for Tottenham Hale, where Mr Duggan was shot, said time had been "wasted" since the riots.
"We haven't moved on at all," he said
"I don't know whether people will riot again, because the response was so heavy. But I don't think we've advanced at all and I don't think we've got a plan to move things."
In 2012 the Met Commissioner Bernard Hogan-Howe ordered an overhaul of stop and search policing in London.
He admitted the tactic had not always been used professionally, but was important to tackle crime.
Assistant Commissioner Mark Rowley said: "The Met is trying to make stop and search more effective, more targeted and less frequent.
"S60 stops - where anyone can be stopped in one area for a limited period of time if violence or weapons are suspected - has been cut back and is down by one fifth.
"And complaints about the use of stop and search is down by almost a half. Disproportionately it is down very significantly and the arrest-to-stop ratio is up."