Norfolk and Suffolk mental health service 'crisis' row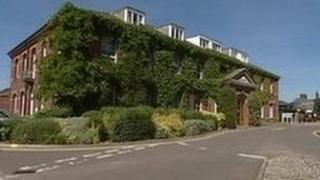 A cash-strapped NHS trust which provides mental health services in Norfolk and Suffolk is not "in crisis", its chairman has insisted.
Norfolk and Suffolk NHS Foundation Trust, which needs to cut £40m from its £220m annual budget over four years, is proposing to axe 400 roles.
Last month a whistleblower spoke out about low morale amongst staff.
Trust chairman Gary Page said he "absolutely" rejected union claims that the trust was in crisis.
He was speaking after Unison officials told BBC Radio Suffolk the trust was "absolutely in crisis".
About 60 people are being made redundant as part of the cuts.
'Real danger'
The trust, which employs about 4,000, is yet to appoint a chief executive following the resignation of Aidan Thomas in June.
It was criticised after it emerged some patients had been offered beds hundreds of miles away from their home - some as far away as Scotland.
Mr Page said: "I'm not going to sit here and pretend that we aren't facing significant challenges as a trust in some parts of our service, because we are.
"We're having to make significant savings, that's not something of our choosing.
"Our income is 1.3% lower this year, it will be nearly 2% lower in each of the next two years and our costs are going up by 3% per annum."
He said some staff who had been made redundant had been contacted about other vacant roles, in an attempt to save money.
"I do accept there are challenges out there and we want to work constructively with Unison and others to address those challenges, but talking this up as a crisis is not in the interests of our service users, and is a disservice to our staff.
"I think there's a real danger that by talking that up we scare some of the most vulnerable people in the county away from accessing the services they need."