Geoffrey Counsell cleared over M5 fireworks deaths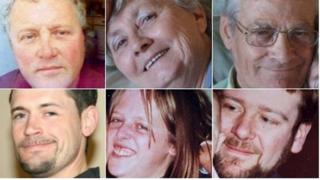 A man in charge of a fireworks display held on the night of a motorway crash in which seven people died has been cleared of breaching health and safety laws.
Geoffrey Counsell had denied a charge of failing to ensure public safety for the Taunton Rugby Club display.
A judge at Bristol Crown Court directed the jury to find him not guilty.
The pile-up involved about 30 cars when they were engulfed by a thick fog on the M5 on 4 November 2011.
Speaking outside court, Mr Counsell said he believed the decision to prosecute him was "motivated by a desire to find someone to blame for this terrible accident, simply for the sake of doing so".
The Crown Prosecution Service (CPS) said it sought evidence from experts and eyewitnesses before making the decision to charge Mr Counsell.
The court had previously been told the smog was so thick that motorists on the northbound carriageway likened it to having a tin of paint thrown over their windscreens.
Mr Counsell, 51, from Ashill, Somerset, had been originally charged with seven counts of manslaughter but the charges were dropped earlier this year.
Not enough evidence
Instead, he was charged under the Health and Safety at Work Act with failing to operate the display so as to ensure that others who might be affected were not exposed to risks.
Mr Justice Simon ruled Mr Counsell had "no case to answer" following an application from the defendant's barrister at the halfway point in the trial.
He said the prosecution's case was "heavily weighted" on "hindsight" and there was not sufficient evidence to show that Mr Counsell ought to have foreseen that smoke from the display could have drifted and mixed with fog to create thick smog.
"I have therefore concluded that the evidence is such that the jury cannot continue in these circumstances and it is my duty to stop the trial and order an acquittal," he added.
Mr Counsell, who ran Firestorm Pyrotechnics, was the contractor hired by Taunton Rugby Club to run the £3,000 display, which was watched by about 1,000 people.
He set off 1,500 shots in 15 minutes - just 200 yards from the motorway.
Witnesses described seeing the smoke drift across the nearby carriageway.
Grandparents Tony and Pamela Adams, from Newport, south Wales; father and daughter Michael and Maggie Barton, from Windsor, Berkshire; battle re-enactor Malcolm Beacham, from Woolavington, Somerset; and lorry drivers Terry Brice, from South Gloucestershire, and Kye Thomas, from Cornwall, died and 51 people were injured in the crash.