Metin Mustafa kidnap: Suspended term for Kornelius Suchodolskis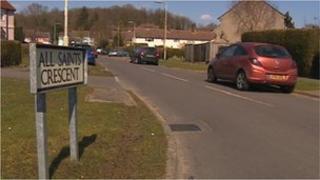 A man has received a suspended sentence for his part in a £20,000 abduction and blackmail plot.
Kornelius Suchodolskis was convicted of blackmail following a trial at Winchester Crown Court.
His father, Virginijus Suchodolskis, and another man, Giedrius Cerniauskas, were previously jailed for the kidnap of Metin Mustafa.
Kornelius Suchodolskis, of Cuddington Avenue, London, received a 15-month sentence, suspended for two years.
He was also ordered to carry out 200 hours of unpaid work.
Kept prisoner
Last month, Virginijus Suchodolskis, 38, was sentenced to 11 years for kidnap, false imprisonment and blackmail. Cerniauskas, 31, was given nine years.
The trial heard that Mr Mustafa, from Farnborough, Hampshire was bundled into the back of a van in March 2013.
He had his hands shackled, legs tied with tape and a bag placed over his head, before being kept prisoner in the back of the vehicle at the Cave Industrial Estate, in Chesterton, Cambridgeshire.
He was freed when police officers stopped a Mercedes car with Mr Mustafa in the back on 28 March, six days after he was taken.
Three other men, Dzeraldas Jacinskas, Domantas Karpas and Vladislavas Tebenkovas, who were tried in connection with the plot, were cleared of all the charges against them.