Boat Race protester Trenton Oldfield wins deportation case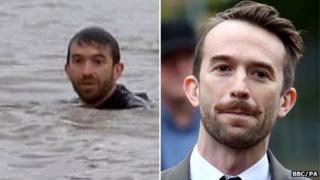 An Australian who disrupted last year's University Boat Race by swimming in front of the crews can remain in the UK, a judge has ruled.
Following a six-month jail term for causing a public nuisance, the Home Office told Trenton Oldfield, 37, his presence was "undesirable".
He appealed against the deportation claiming his wife, who is of Indian descent, would be at risk in Australia.
An immigration tribunal judge said he intended to allow him to remain.
Mr Oldfield interrupted the 158th Boat Race between Oxford and Cambridge in April last year. The race was eventually won by Cambridge.
He said his actions were a protest against elitism and inequality.
'Passive aggressive' racists
He was jailed in October last year, and served seven weeks before being released on electronic tag. In June, Mr Oldfield was told he must leave the UK.
But he told an Asylum and Immigration Tribunal in Islington that if he was forced to leave the UK he could not take his wife, Deepa Naik, or his daughter back with him because Australians were "passive aggressive" racists.
"Australia to Deepa... is a particularly racist country," he said.
"There are particularly racist attacks on people of Indian descent... I don't think I could put either Deepa or my child through that."
He told the court he could not bear to be parted from his wife.
Mr Oldfield also expressed regret about some aspects of his protest, and said he would not do it again.
However, he rejected the Home Office ruling that his presence in the UK was "undesirable" and said when he arrived in London 10 years ago, he believed "there was room for people like me... who were interested in justice, interested in fairness".
'Old ideal'
The court was also handed a petition with signatures from 265 Cambridge and Oxford staff and students who did not want Mr Oldfield to be deported.
Representing Mr Oldfield, Stephanie Harrison QC said her client's good work in the community outweighed the one protest incident.
Judge Kevin Moore, presiding over the tribunal, said: "It would be my intention to allow the appeal."
Mr Oldfield said he was "delighted to be able to get back to my work and spend time with my family", but said public interest in the incident should highlight other deportation cases.
"Deportation is an old ideal and it's from another time - 1,000 years ago," he added.
The decision to allow Mr Oldfield to remain in the UK is expected to become official in about 10 days' time.