Nigel Farage-threat pilot Justin Adams found dead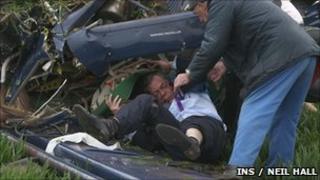 A pilot who threatened to kill UKIP leader Nigel Farage following a plane crash has been found dead at his home in Sussex.
Sussex Police confirmed Justin Adams, 48, had been found dead at his home in Rotunda Road, Eastbourne.
The force said his death, last month, was not being treated as suspicious and an inquest had been opened and adjourned.
Mr Farage said the news was tragic but he could not comment further.
The MEP for the South East said: "This is a horribly tragic end and I'm desperately sorry for what happened."
Adams was convicted at Oxford Crown Court in June 2011, of making five threats relating to Mr Farage and crash investigator Martin James after the accident in May 2010.
The crash in Northamptonshire, on the day of the general election, left both self-employed pilot Adams and Mr Farage in hospital.
'Cry for help'
An Air Accidents Investigation Branch report found the plane crashed when a campaign banner it was towing became entangled, causing the plane's nose to drop.
A trial heard Adams, who then lived in Oxfordshire, made the threats after becoming angry because his insurers refused to pay out until an investigation into the crash had been completed, resulting in him losing work.
Jurors heard a recording of a phone call by Adams, in which he said he was going to kill somebody and had a pistol.
The judge said he had suffered from "a depressive order of moderate severity" which had been triggered by the crash, and he had also been drinking.
Mr Justice Saunders said he accepted the offences were "a cry for help as well as an expression of anger and resentment".
Adams was given a two-year supervised community order at the end of the trial.