North Yorkshire MP Anne McIntosh in de-selection row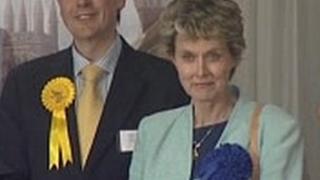 It is rare to hear senior officials of a local Conservative constituency party utter a single word of criticism about their MP - but the executive committee in the North Yorkshire seat of Thirsk and Malton have gone a lot further than that.
They are refusing to endorse sitting MP Anne McIntosh to stand again as their candidate for the 2015 General Election and want her replaced.
They feel the high-profile MP, who chairs the powerful Commons Rural Affairs Committee, has not done a good enough job representing her own constituents.
When such serious action is taken by local party bosses it has to be endorsed by a specially-called formal postal ballot of the constituency's card-carrying Conservative Party members.
The ballot papers to all 560 members were posted out from Conservative Party headquarters in London on 10 January with a result expected to be announced by the end of the month.
'Divisive MP'
So how have things come to this in one one of the safest Conservative seats in the country?
On the few occasions when a catastrophic breakdown of the relationship between an MP and local party managers occurs serious political policy differences or a whiff of scandal have usually been at the root of the dispute.
In Miss McIntosh's case neither of these has even been mentioned by her local party bosses.
"She is a divisive MP," I was told by leading Thirsk and Malton Association member George Winn-Darley.
"She may be well thought of in London but many people here have complained to the association that she is not representing the constituency properly and carrying out her role in a way that we expect."
It is a bitter and highly unusual dispute that could end Miss McIntosh's 17-year career in the House of Commons, but it is difficult to see that from the way she has approached the ballot. She has said next to nothing about it.
'Delight' despite ballot
Her website makes no mention of it and neither did Christmas and New year messages she sent out to be published by the local media.
The 20,000 or so people who voted for her in the constituency at the last election would have had no inkling of the row if they saw her only press release on the issue in December.
She totally ignored the fact that the ballot had been forced on her by the local party executive and instead expressed her "delight" at being "invited" to put forward her name for re-nomination.
Association chairman Peter Steveney told me party rules did not let him make public statements when a confidence vote like this had been called but he could not contain himself when he saw his MP's interpretation of what was happening.
"The board of the Conservative Party has directed Anne McIntosh to have her name put forward for re-adoption - or otherwise," he told me.
Sense of deja vu?
In fact, Miss McIntosh is no stranger to this kind of dispute. Four years ago a previous constituency chairman and executive board also took the extraordinary action of deselecting her because they thought she was not putting enough effort into representing her own constituency.
On that occasion, the subsequent ballot of local association members went in her favour. She went on to be returned at the General Election and it was her chairman and the executive who stood down to be replaced by fresh activists.
Now it is happening all over again.
The postal ballot papers from Conservative HQ include a covering letter from Miss McIntosh in which she says she is a hard-working local MP who deserves the support of the members..
It is then a simple "yes" or "no" vote for the members.
With so many of those involved in the ballot keeping their cards close to their chests it is almost impossible for any outsider to predict the result.
Historically, the tiny number of other sitting Conservative MPs who have been in her position have usually been backed in the resulting ballot of members.