Dart Energy boss targets 'Wayne Rooney's backyard' drilling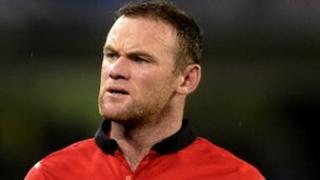 The chief executive of the company with shale gas drilling rights for Cheshire has said he "can't wait to drill in Rooney's backyard".
Dart Energy's John McGoldrick told shareholders in Western Australia that "shale gas [under] where all the Man U players live" was worth "billions".
However, he said the company had still to find the "sweet spots".
Greenpeace campaigner Anna Jones said his comments were "an awkward own goal" for the company.
Proposals to extract shale gas through the process of hydraulic fracturing, known as fracking, in the UK have sparked conflict between the energy industry and environmentalists and protest groups.
Last week, anti-fracking campaigners attempted to stop a gas drilling rig arriving at a site in Greater Manchester, while in August, protestors clashed with police at a drill site in Sussex after they suspected it was to be used for fracking.
'Even more trouble'
Mr McGoldrick said the company has a licence to drill for 110 trillion cubic feet, which he claimed was a tenth of the supply in the Bowland Basin shale area.
The area stretches under Cheshire, Lancashire, Greater Manchester, Merseyside and Yorkshire.
Independent estimates have suggested the area could contain up to 1,300 trillion cubic feet of shale gas.
He said the current price for one trillion cubic feet is $10bn (£612m).
Speaking to the shareholders' meeting, he told them that Dart's interest were in Cheshire.
"That's where all the Man U players live - I can't wait to drill in Rooney's backyard," he said.
The Manchester United and England footballer lives near Alderley Edge in the north-east of the county.
Mr McGoldrick added that opponents to fracking "will be pushed aside".
Ms Jones said the statement was "an awkward own goal from Dart Energy".
"If Dart thinks the idea of invading someone's land with drills, trucks and chemicals is funny, then we are in even more trouble than we thought."
She added that Mr McGoldrick's comment about opponents was also worrying, adding: "One can't help but wonder if that includes Rooney."
A spokesman for the player said Rooney would not be commenting.