Crowborough Birthing Centre 'dialogue sought'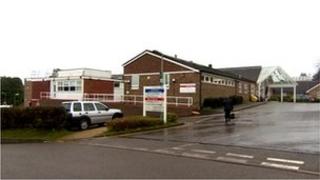 Councillors in Kent have called for talks on the future of a threatened maternity care unit in Sussex.
It follows a campaign for Crowborough Birthing Centre, which closed for four days because of staff shortages in Sussex, to be run from Kent.
Commissioners have set out six options for East Sussex maternity care - four include a midwife unit at Crowborough.
Tunbridge Wells councillors agreed to encourage a dialogue between a Kent hospital trust and NHS commissioners.
Up to 2,600 people have signed a petition calling for the existing birthing centre to be transferred to Maidstone and Tunbridge Wells NHS in Kent.
'Further closures feared'
In October, Crowborough Birthing Centre, which is based at Crowborough Hospital, closed for four days so midwives could work at the Conquest Hospital in Hastings.
East Sussex Healthcare NHS Trust, which runs the unit, blamed sickness and shortage of agency staff.
Campaigners who started the petition to transfer the centre said they feared further closures.
Responding to the latest calls to transfer the unit to Kent, East Sussex Healthcare said options for the future delivery of its maternity and paediatrics services had been set out by clinical commissioning groups (CCGs).
"We continue to work closely with the CCGs to ensure we provide safe, high quality services for the women and children of East Sussex," chief executive Darren Grayson said.
Maidstone and Tunbridge Wells NHS Trust has not yet commented.