Surrey and Sussex police forces to merge more services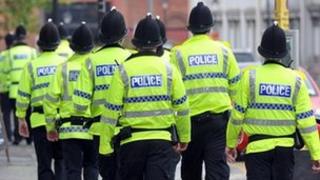 Two police forces looking at ways to merge services in a bid to modernise and make savings are appointing a "head of change" to oversee the process.
Sussex and Surrey police already collaborate in areas such as major crime and forensics and are extending joint-working to more services.
The Sussex Police Federation has called for any savings made to be reinvested into frontline policing.
Branch chairman Paul Sellings said changes needed to be managed carefully.
"Sussex and Surrey police forces are working more and more closely together," he said.
"There are now over 2,800 of their people who are working together. This change needs to be managed very carefully."
'Diminishing budget'
He said any function being performed in operations and specialist crime in both forces would be looked at by the person appointed to the new role, to see whether one person could perform that function across both police areas.
"As a result of that, it may well mean that some back office jobs will have to go," he said. "But we hope that that money can then be reinvested in frontline policing."
Sussex Police said areas of collaboration currently included major crime, forensics, firearms, procurement, fleet, insurance and risk management, and this had been extended to more services across serious crime and operations.
The force said neighbourhood services continued to be delivered locally, informed by local needs and priorities.
It said: "The aim of collaboration is to ensure that high-quality policing services can be maintained for the public in Surrey and Sussex against a diminishing budget.
"We believe our collaboration enables us to do this, achieving economies of scale and reducing duplication, with the savings made enabling us to protect frontline policing services."