Floods in Kent and Sussex: People return home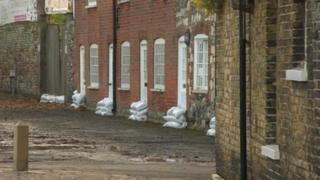 Hundreds of people are returning to their homes to assess the damage after a tidal surge hit coastal towns in Kent and Sussex.
More than 40 properties were flooded in Faversham and Sandwich, according to the Environment Agency.
Emergency services spent Thursday night pumping away flood water near homes in Shoreham, West Sussex.
A second high tide and surge on Friday afternoon have not caused further flooding, the Environment Agency said.
The first high tide and tidal surge hit coastal towns in Kent and Sussex in the early hours of Friday.
Overnight, more than 500 properties were evacuated in areas of Kent, including in Sandwich, Seasalter, Faversham and the Medway towns.
Relief centres were set up in those areas to cater for residents hit by the flooding.
In West Sussex, the A259 through Shoreham was closed as the tidal surge affected the south coast.
The Newhaven swing bridge was damaged by the flooding and cannot be opened to allow boats to access the North Quay.
Vehicles were removed from a car showroom in the town as the high tide threatened the Sussex coast, although as in Kent, the second surge was not as high as had been feared.
The train line between Newhaven and Lewes was closed due to flooding, and rail services between Lewes and Seaford are still suspended.
'Little bit exciting'
Tim Nortin from the Environment Agency said: "The second high tides came through in the early afternoon [Friday] and, thankfully, that came through at slightly lower levels than last night's high tide.
"It seems to have gone through without causing any further problems."
The Port of Dover was shut temporarily at the height of the tide, at about 01:00 GMT on Friday.
Overnight flooding destroyed part of the Sir Edwin Lutyens and Gertrude Jekyll-designed gardens at Grade-I listed Salutation house in Sandwich.
Head gardener Steve Edney said: "When I entered the garden and saw it, it made me feel a bit sick."
He said several acres of the garden, including potting sheds and greenhouses, were more than a metre underwater.
"The build-up yesterday was a little bit exciting and everybody was getting ready.
"Often we do these kinds of things and it turns into nothing, but sadly the garden has been flooded heavily."
A man was rescued from his lorry by firefighters when it became surrounded by about 4ft (1.2m) of flood water in Channel View Road, Dover, at about 00:45 GMT on Friday.
All flood warnings have been lifted for Kent and East and West Sussex.
The tidal surge followed storms that battered Scotland and the east coast of England.
A spokesman for Medway Council said isolated flooding had been reported in a number of locations in Medway.
He said: "By 2:30am on Friday, the council's emergency control room in Gun Wharf was receiving reports of receding water levels at areas across Medway and it was clear the greatest period of risk for Medway that morning was over."