High tides to threaten East coast for two days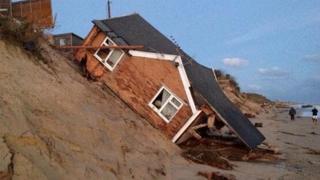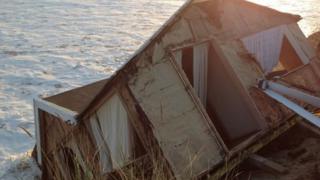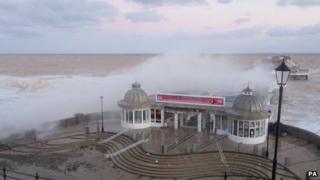 High tides will continue to threaten coastal towns for the next two days, after the largest tidal surge for 60 years struck overnight.
The surge washed a lifeboat station and homes into the sea in Norfolk and in Suffolk 27 people had to be rescued.
Environment Secretary Owen Paterson said 800,000 properties were protected by flood defences but "exceptionally high tides" will continue for 48 hours.
On Friday morning there were dozens of severe flood warnings for the East.
The BBC's Chris Eakin tweeted: "Measurements show tidal surge in Great Yarmouth last night was higher than 1953 when more than 300 killed. Power of defences."
'Cliff gave way'
But in nearby Hemsby five homes were washed into the sea overnight.
The BBC's David Whiteley, who had been filming in one damaged house, said: "The back of the house had gone and a crack had opened in the floor."
People from the village formed a human chain to rescue the owners' furniture.
Elsewhere in England:
The Environment Agency said greater loss of life and damage to property was prevented thanks to flood defences that have been put in place.
Jason Wakeford, a spokesman for the EA, said: "It is quite clear from those numbers that events like this are hugely dangerous - the 1953 flood claimed thousands of lives so alerts and warnings are very important to prevent such a disaster happening again.
"In places across the east coast sea levels were higher than in 1953. However, this time we had much better protection in place."
Mr Wakeford said the Thames Barrier had faced the biggest tide since it opened in 1982 and would be closing again at 11.15am after being shut overnight and reopened.
Hayley Rose, who works at the Pier Hotel in Gorleston-on-Sea, near Great Yarmouth, said people were putting themselves at risk by being outside during the floods.
"It was frightening, because they thought it was funny," she said.
"There were children in their dressing gowns and pyjamas and water was coming up through the drains like a volcano. I couldn't believe it."
Her views were echoed by Jason Holland from Cromer Coastguard, who said: "People are putting their lives at risk by trying to get equipment from their beach huts. People should stay away."
BBC Look East's Nikki Fox said part of the sea wall at Cromer had gone, the arcade on the promenade had suffered damage and a burger van floated away overnight.
On Thursday, storms resulted in the death of one man who was killed by a falling tree in Retford, Nottinghamshire, while riding a mobility scooter.
Members of the the Light Dragoons helped erect the barriers to protect homes and the telephone exchange in Great Yarmouth.
In Cumbria and Teesside, 20,000 homes were left without power as the heavy winds and tidal surge made its way down the east coast from Scotland.
The River Tyne and River Tees burst their banks in the North East as heavy rain forced dozens of major road closures from about 16:30 GMT.
Dave Cocks from the RNLI in Redcar said the tide on the River Tees was the highest measured "for 150 years".
In the Midlands, a pilot trying to land a plane at Birmingham Airport was forced to abort the manoeuvre at the last moment due to heavy winds.
A separate Flybe flight from Jersey, due to land at the same time, was diverted to East Midlands Airport because of the same problem.