Jaguar Land Rover planning new Brazil plant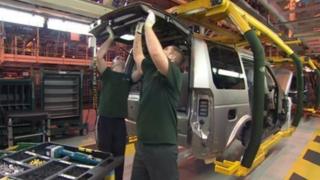 Jaguar Land Rover (JLR) is planning a new manufacturing plant in Brazil employing 400 people in a £240m scheme.
The first manufacturing facility in Brazil to be opened by a British car maker would be in the Itatiaia area of Rio de Janeiro, JLR said.
It would have the capacity to make 24,000 vehicles a year, with the first coming off the assembly line in 2016.
The union Unite said it welcomed the news and hoped the firm would generate bigger profits allowing it to invest.
An agreement paving the way for construction has been signed by Rio's state governor, JLR said.
The company said initially the plant would employ nearly 400 people and this number was expected to almost double by the end of the decade.
This new manufacturing facility would also create additional jobs across the local supply chain network, it added.
JLR said building work would start in mid 2014 and it was anticipated the first vehicles would come off the assembly line in 2016 as long as the Brazilian government gave its approval.
It added the vehicles would be built for the Brazilian market.
The company has bases in Castle Bromwich and Solihull in the West Midlands and Halewood on Merseyside.