Sandwich homes evacuated amid flood fears for Kent coast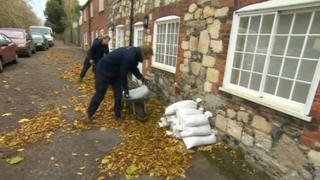 People living in east Kent have begun to evacuate their homes as the county prepares for the worst floods in more than half a century.
Up to 200 homes in Sandwich are feared to be at risk, with more than 3,000 across the county.
Councils in Dover and Canterbury have told some residents they should consider leaving their homes amid warnings of potential loss of lives.
Parts of the Sussex coast are also the subject of flood warnings.
The storms, which have battered Scotland and the east coast of England, are expected to hit the Kent coast later.
Danger to life
A storm surge, combined with low pressure and high tides just before 01:00 and 13:00 GMT on Friday, is expected to breach flood defences in parts of Sandwich and Deal, the Environment Agency said.
It has issued five severe flood warnings - meaning a danger to life - for Kent, affecting areas near Greenhithe, Seasalter, near Whitstable, parts of Sandwich and the nearby Pfizer site.
There are also less severe warnings in place for other parts of Kent, including Pegwell Bay, near Folkestone, and Shoreham Harbour and Bosham, in West Sussex.
Operations manager for south-east England, Ian Nunn, said: "The defence heights are lower than the protected tide heights in Sandwich tonight, so we know some of the defences will be overtopped. So the water will find its way into the towns and properties will be flooded.
"We are putting up some temporary defences in the town to try and reduce the impact of that, but... they are not going to stop flooding. They are just going to reduce the impact."
Limited evacuation
He said it was possible the surge would also breach the defences at the Sandown Castle end of Deal, which have not been completed.
But, he added: "It won't be anywhere near as significant as the Sandwich tides."
A spokesman for Dover District Council said it was working with police on a "limited evacuation" of more than 170 properties in Sandwich following advice from the Environment Agency.
It has set up a rest centre at the Sandwich Sport and Leisure Centre in Deal Road.
Neighbouring Canterbury City Council is taking similar action for a number of people living in Faversham Road, Seasalter.
Larissa Reed, the council's head of neighbourhood services, said: "If it's safe for people to leave, they should leave and they should go to our rest centre in All Saints' Church hall in Whitstable.
"It's a big operation, and it's something we're prepared for."
Strood leisure centre is also being placed on standby to take evacuees if necessary.