Boost for shops, pubs and cafes in High St fight back?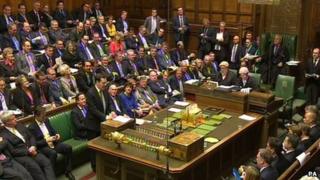 We weren't expecting too many thanks in the chancellor's Autumn Statement.
But two Midlands backbenchers were to be pleasantly surprised during George Osborne's 50-minute update to Parliament on the state of the nation's finances.
"I wish to thank my honourable friends for Wolverhampton South West and Nuneaton for their campaigns", he told the Commons.
To unmask them from the Parliamentary protocol, they are, respectively, Paul Uppal and Marcus Jones.
And their campaign has been on behalf of the embattled High Street.
Online shopping
Parts of Wolverhampton and Nuneaton both show how cruelly so many of our town and city centres have been ravaged by the combined effects of the economic downturn in general and the broad market shift towards shopping online in particular.
We have also witnessed the relentless toll of pub closures, year in year out.
And the chancellor confirmed that the widespread view that the transformation of our town and city centres still has a way to go yet.
This is why one of the relatively few parts of his statement not to have been heavily trailed in advance was his announcement of business tax discounts worth £1,000 a year for small shops, pubs, cafes and restaurants.
This is on top of the expected confirmation that business rate rises will be capped at 2% from April.
Lingering effects
This, in its way, represents this year's Autumn Statement in microcosm: an acknowledgement that targeted measures to boost chronic under-investment in businesses great and small are still needed to offset the lingering effects of the downturn.
Which leads us to Labour's arguments: that despite the recent improvement in economic growth as a whole "for most people", as the Shadow Chancellor Ed Balls put it, "there is simply no recovery at all".
Mr Balls seized on the statement to press Labour's attack on what they call "the cost of living crisis".
Their poster vans have been hitting the streets with the message that wages are lagging so far behind price increases that we are on average "£1,600 a year worse off" than when George Osborne became Chancellor in May 2010.
It is a safe bet, whatever happens to the economy between now and Thursday 7 May 2015, that his claim will still be broadly true on the scheduled date of the next general election.
Which is why this Autumn Statement is so significant in framing the pre-election terms of engagement. George Osborne is saying in effect, that we are heading in the right direction but we have a long way yet to go so stick with it.
While Ed Balls is equally clear that for most people: "There is no recovery at all. They're facing rising energy bills, falling wages and waiting longer for their pensions."
This is the conversation that we can expect will define our politics right up until polling day itself.