Michael Chopra testimony: Three guilty of cocaine conspiracy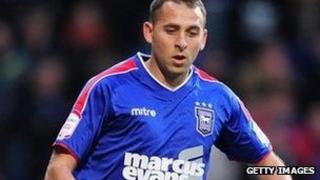 Three men have been convicted in a £750,000 cocaine trial at which footballer Michael Chopra testified.
Joseph Lewins, 55, of Washington; John Somerville, 53, of Newcastle and Daniel Chisholm, 51, of Sunderland were found guilty of conspiracy to supply cocaine.
Christopher Bacon, 34, of Sunderland was found not guilty.
Prosecutors alleged £50,000 found in a car was drugs money, but jurors heard it belonged to the Blackpool player and was due to be paid to creditors.
The former Newcastle United, Sunderland, Cardiff City and Ipswich striker, 29, told jurors he had been pursued by loan sharks and estimated he had lost about £2m through his gambling habit.
Somerville told Newcastle Crown Court he had often helped Mr Chopra deal with his debts.