Foot in mouth gong for Godfrey Bloom, Yorkshire and Humber MEP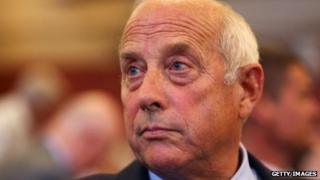 Politician Godfrey Bloom has been branded a "wince-inducing gaffe machine" after winning the Plain English Campaign's Foot in Mouth award.
The former UK Independence Party MEP, now an independent, was one of several people highlighted for their use of the language.
Earlier this year, Mr Bloom was condemned for referring to "Bongo Bongo Land" when discussing overseas aid.
He said: "What is plain-speaking to one man is foot in mouth to another."
'Overwhelming choice'
The MEP for Yorkshire and Humber was also censured for calling women "sluts" at a meeting and for hitting the Channel 4 News journalist Michael Crick over the head with a conference programme.
A Plain English Campaign (PEC) spokesman said: "Bloom was an overwhelming choice for the Foot in Mouth award and, to be fair to him, could easily have won this award on at least two other occasions.
"(He is) a wince-inducing gaffe machine and we could fill a page or two with his ill-advised quotes from 2013 alone."
Previous winners of the Foot in Mouth award include John Prescott, Mitt Romney and Jamie Redknapp.
Mr Bloom told BBC Radio Sheffield he was "absolutely thrilled" to win the award.
He said: "I've a lifetime of not many awards and this is one which I shall treasure.
"The paradox is... when I made this remark about foreign aid... I got over 15,000 emails of support and only 47 against.
"It is interesting that what is plain-speaking to one man is foot in mouth to another."
Gary Neville
Leicester City Council and Helen Grant, the Conservative MP for Maidstone and The Weald, were winners of the Kick in the Pants award.
The authority was picked up for what the campaign described as "ill-conceived communication" in relation to its notices on dog control.
Ms Grant, a sports minister, had been unable to answer five sports-related questions during a television appearance.
The University of Essex Centre for Psychoanalytic Studies, the Alliance Trust Savings and the Department of Energy and Climate Change received Golden Bull gongs, for "the worst written nonsense".
The awards also celebrated those with a flair for language, with the Prince of Wales being commended for his outspoken views on pensions.
Former Manchester United player-turned-television pundit Gary Neville was named Plain English Communicator, while there was also a nod to Observer journalist Andrew Rawnsley.
AMONG THE WINNERS
Chrissie Maher Award - Prince of Wales
Foot in Mouth Award - Godfrey Bloom MEP
Kick in the Pants - Leicester City Council, Helen Grant MP
Pat on the Back - Andrew Rawnsley
Plain English Communicator - Gary Neville
Osborne Memorial Award - Elmore Leonard
International Award - Health Canada
Golden Bull winners - University of Essex Centre for Psychoanalytic Studies, Alliance Trust Savings, the Department of Energy and Climate Change
Best Newspaper - The Times
Best Publication - The Week
Best Television Programme - Amanpour (CNN International)
Best Radio Programme - Thinking Allowed (BBC Radio 4)
Web Award - The Automobile Association (AA), The Woodland Trust