Amputee Atlantic rowing challenge gets under way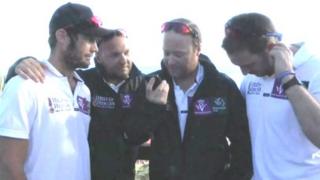 Four soldiers, two of whom lost limbs in Afghanistan, have set off on a cross-Atlantic rowing challenge to raise money for injured troops.
The Row2Recovery team are among 16 teams who will start the Talisker Whisky Atlantic Challenge.
They are aiming to row 3,000 miles from the Canary Islands to the Caribbean.
The race, which is expected to take about 50 days, was due to start on Monday but was delayed because of bad weather.
Cayle Royce, Scott Blaney, James Kayll and Mark Jenkins are taking on the gruelling challenge to raise money for Help for Heroes.
Corporal Blaney, from Nuneaton, Warwickshire, lost his right leg in an improvised explosive device (IED) blast in Afghanistan in 2007.
'Don't forget'
The 27-year-old, from the Grenadier Guards, said: "As long as there are wars there's going to be injured soldiers and it's something people need to be aware of.
"It's so important that people don't forget and that we keep the help there for people who have been injured."
Trooper Royce, from the Light Dragoons, was severely injured 18 months ago when he stepped on an IED in Afghanistan.
The 27-year-old, from Dartmouth, lost both legs above the knee and several fingers on his left hand.
The men will be joined by team leader Captain James Kayll, from Milton Abbas, Dorset, also from the Light Dragoons, and Captain Mark Jenkins, 34, from Brighton, a physiotherapy officer with the Royal Army Medical Corps.
The foursome will row for two hours at a time, living on freeze-dried food and are likely to lose about 20% of their body weight.
Last year a six-man Row2Recovery team raised £1m for the charity after completing the feat in 51 days.