A14 toll charge plan rejection 'victory for common sense'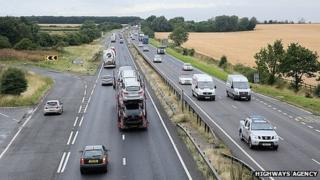 Campaigners have spoken of their delight after news plans to introduce the UK's first toll road in 10 years are to be dropped.
The plans for a £1.5bn upgrade of the A14 in Cambridgeshire are instead set to be funded from general taxation.
The Highways Agency had said charges could be between £1 and £1.50 for cars using the 12-mile (19km) stretch.
The Road Haulage Association said the toll would have been a "tax on East Anglia".
Business leaders said the announcement, set to be made by Chief Secretary to the Treasury Danny Alexander, would be a victory for "common sense".
Dr Peter Funnell, president of Suffolk Chamber of Commerce, said: "The proposals to toll the A14 would have meant a loss of jobs.
"Government scrapping these plans is the right thing for business, for the economy and for Suffolk."
'Completely ill-founded'
John Bridge, chief executive of Cambridgeshire Chamber of Commerce, said: "We will all be celebrating that common sense has at last prevailed over the tolling issue.
"Everybody has been absolutely united in their opposition to it and felt it was completely ill-founded - that part of the proposal - in fact it was only going to provide a very small proportion of the money in overall terms."
John Howells, regional director of the Road Haulage Association, said: "It would have meant a tax on the economy of East Anglia.
"Hauliers would have had to pass on the additional costs.
"In addition, it would have greatly undermined the competitiveness of Felixstowe and other ports by adding to the cost of haulage."
Colin Macleod, of Cambridge, said it was inconsistent for the government to impose a toll on the new A14 section on the basis that it would increase the road's capacity, while not backing improvements around Kettering nor the A11 upgrade to dual carriageway, between Barton Mills and Thetford.
Paul Morgan, from Brampton in Cambridgeshire, said: "As a resident of the most affected village on the proposed route I am happy that the idea of tolling has been dropped."
The plan for a new stretch of A14 between Ellington and Swavesey includes a widening of the A1 between Brampton and Alconbury.
Demolition of the bridge over the mainline railway, close to Huntingdon station, would have led to traffic being forced to use the toll road.