Queen and Princess Margaret: Young pantomime stars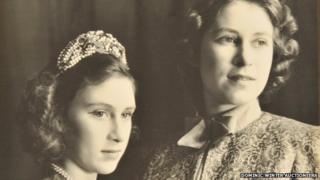 Photographs of the Queen on stage in pantomime are among "the most amazing royal archive", an auctioneer has said.
The images, which also feature the late Princess Margaret, are in two scrap books which are expected to sell for thousands of pounds at auction.
They show the royal sisters in their youth on stage in Windsor in shows including Cinderella and Aladdin.
Several of the photos, taken between 1940 and 1944, were also signed by the two young princesses.
Lead role
The photographs are part of a collection jointly owned by a former headmaster of the Royal School in Windsor, Hubert Tannar, and actor Cyril Woods, who directed and appeared in school performances.
"It is the most amazing royal archive I have seen," said Chris Albury, from Dominic Winter Auctioneers in Gloucestershire.
In 1941, Princess Margaret took the lead role in Cinderella with the then Princess Elizabeth playing Prince Florizel.
The following year, in Sleeping Beauty, Princess Elizabeth performed as Prince Salvador with Princess Margaret as Fairy Thistledown.
Then in 1943, Princess Elizabeth took the lead in Aladdin with Princess Margaret as Princess Roxana.
Finally in 1944, the sisters performed in Old Mother Red Riding Boots with Princess Elizabeth as Lady Christina Sherwood and Princess Margaret as the Honourable Lucinda Fairfax.
Each performance took place in the Waterloo Chamber at Windsor Castle.
Other lots being auctioned next week include printed pantomime programmes and telegrams from the Royal Family.
The collection is being sold by the family friends of Mr Tanner, who died in 1948, and Mr Woods, who died 12 years ago.