Birmingham and Bradford top 'crash for cash' league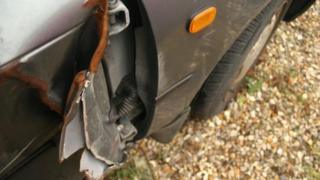 A crime charity has named postcodes in Birmingham and Bradford as "crash for cash hotspots" as part of a campaign to raise awareness of the issue.
Crimestoppers said the two cities occupy nine out of the top ten postal districts in the UK where the crime is most likely to occur.
The scam involves criminals staging crashes between vehicles in order to make claims against motorists.
The charity said it set up a helpline to help drivers report suspicions.
Crimestoppers compiled its list from information provided by the insurance industry.
The insurance companies identified the number of claims related to the scams, which they then passed on to the relevant police forces.
Birmingham postcodes occupy six of the top 10 spots for the crime, while Bradford occupies a further three. The final place is claimed by Bolton.
A Crimestoppers spokesperson said: "The top of the list is dominated by postal districts in Bradford and Birmingham and motorists there are warned to be particularly vigilant."
The charity said the criminals typically exaggerated claims for personal injury, vehicle damage and car hire.
It said much of the activity was coordinated by criminal gangs making "hundreds" of claims.
'Leading the fight'
Director of operations Roger Critchell said: "This is a serious and organised crime that funds other crimes, including weapons and drug smuggling."
He said anyone with information on the crimes should contact Crimestoppers.
The charity said it had worked with the Insurance Fraud Bureau (IFB), a not-for-profit organisation which investigates organised insurance fraud.
A spokesperson said the annual cost of the crime was £392m. It said it had worked with West Midlands Police on 19 arrests associated with the crime.
A police spokesperson said they had worked closely with Crimestoppers and the IFB. They said: "They are leading the fight against cash for crash fraud".