Ex-Daily Star editor Brian Hitchen dies in Spain crash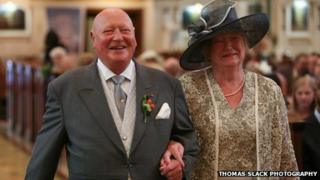 A former editor of the Daily Star and Sunday Express has been run over and killed in Spain, along with his wife.
Brian Hitchen, 77, and his wife Nelli were struck by a car on Sunday while crossing a road in Altea, near Benidorm, on the country's east coast.
Mr Hitchen was editor of the Daily Star from 1987 to 1994 and the Sunday Express in 1995.
Daily Express editor Hugh Whittow described his friend and ex-colleague as "talented, funny and generous".
Mr Hitchen, who during his career also worked for the Daily Mirror and the National Enquirer in the United States, died in hospital following the crash on Sunday.
'Everyone loved him'
A spokeswoman for Northern & Shell, the Daily Express and Daily Star's parent company, said: "We can confirm the sad news that Brian Hitchen, former editor of the Daily Star and the Sunday Express, and his wife, Nelli, have died after being been involved in a serious road accident in Spain.
"Brian was taken to a hospital in a very grave condition and doctors were not able to save him.
"Nelli very sadly died at the scene. Our thoughts are with their family at this time."
Mr Whittow said he was struggling to come to terms with the deaths.
"Brian was one of my very best friends and I am deeply, deeply saddened by this tragic news," he said.
He said of Mr Hitchen that "everyone loved him", adding: "He was devoted to Nelli and she was devoted to him, and they both adored their children and grandchildren."
'Hitch-sized hangover'
Former editor of The Mirror newspaper, Piers Morgan wrote on Twitter: "Great editor, and wonderful character. Gave me my 1st shift in Fleet Street. RIP."
Attending Monday night's British Journalism Awards, Express Newspapers' digital content director Gareth Morgan tweeted: "I will raise a large glass to Brian Hitchen tonight at the British Journalism Awards.
"Tomorrow I'll have a Hitch-sized hangover.
"It's a black day for journalism. RIP Brian Hitchen. Still the Boss."
A spokeswoman for the Foreign and Commonwealth Office said: "We are aware of the death of two British nationals following an incident on 1 December in Altea, near Benidorm, in Spain.
"We are providing consular assistance to the family at this difficult time."