Will Can Parent classes scheme go the distance?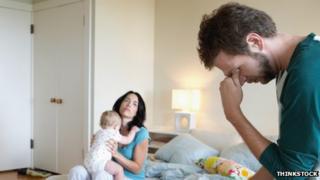 Since the summer of 2012, parents in three areas of England have been eligible to attend free parenting classes. An announcement on the scheme's future is expected next month but the only data available suggests take-up has been low. But why might families be reluctant to get help?
The idea was a simple one.
Parents of children aged 0-5 living in Camden, High Peak in Derbyshire and Middlesbrough could go to free classes and learn useful techniques.
There was no catch, but the concept attracted criticism and shortly after the trial was unveiled prime minister David Cameron denied it was evidence of a "nanny state" in action.
An early appraisal of Can Parent attracted more negative headlines.
The Department for Education's first analysis of the scheme, published in March, found broad support for the classes but only 365 of the 55,200 parents eligible had taken advantage of them.
Of the three pilot areas, the review found the trial had proved most popular in Middlesbrough, which accounted for 45% of all registrations.
Organisations in the town initially found it difficult to overcome the "myths" around parenting classes.
Coordinator Lisa Bosomworth, from Middlesbrough Voluntary Development Agency, said changing opinions was "the first mountain to climb".
"There's been a preconception that parenting classes are for bad parents, or those whose children are under child protection orders," she said.
"There was also a fear that accessing this type of support would highlight families to social services."
Georgina Flear, whose daughter Eve is two, completed the course about five months ago.
She said the classes made parenting "much clearer".
"I was looking at my daughter in a completely different way," she said. "It really opened my eyes."
In Camden, one provider, Montessori, "regretfully" withdrew from Can Parent a year early.
National strategies director Barbara Isaacs insists Montessori had "high hopes" for the trial but soon found it to be "incredibly cumbersome and overly bureaucratic".
"Lots of people agreed it was a good idea but they just didn't need it," she said.
"There's also a problem with the name. To call it a parenting class gives it a huge stigma. People will think 'Do I need to go back to school?'
"The people who really need it most probably find it the most challenging to admit."
Montessori said the fact there were 14 private providers in Camden in competition with the council meant there was "too much choice".
A DfE spokeswoman said Montessori's own research found the classes had a "substantial positive impact" on parents.
She added: "Can Parent aims to improve parenting skills and address the everyday issues that can arise when raising young children.
"We continue to work closely with providers in all the trial areas to deliver high quality classes to parents."
Back in Middlesbrough, Lisa Bosomworth said the DfE has responded positively to feedback from providers and parents.
She believes more must be done to get the message across that needing help to raise children is not a sign of weakness.
"As a parent myself with older children I just wish there was something like this when I was younger," she said.
"Even if you have more than one child in your household, each one is different. Everyone is allowed to put their hand up at one point and say 'I'm really struggling.'"
On Teesside at least, Can Parent has picked up momentum as the trial has gone on.
"At the start there were some very thick barriers to overcome," Ms Bosomworth said.
"Even if we've just started to take that top row of bricks off it's been a very positive thing."
Dr Kate Wall, from Durham University's School of Education, who specialises in the engagement of parents with their children's schooling, believes it is difficult to judge how successful initiatives like Can Parent have been purely on attendance.
"You have to look beyond the numbers," Dr Wall said. "You might not see the benefits until the children of the parents become parents themselves."
Earlier this month, a separate trial offering relationship support to new parents was scrapped after fewer than 10 couples took part.
With its trial period due to end in March, it remains to be seen whether a similar fate awaits Can Parent.