'Eyesore' architecture: To revamp or destroy?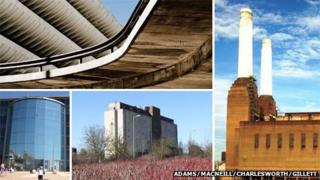 What did a former London power station and a Lancashire bus station have, that a Dorset seafront cinema and a derelict grain store in Oxfordshire lacked?
Bournemouth's IMAX cinema and Water Eaton's silo, both branded "eyesores", were demolished this year.
While Preston Bus Station, once described as a "concrete monstrosity", is now set for a £15m makeover after it was given Grade II-listed status.
Plans were also announced for Grade II*-listed Battersea Power Station to be restored by 2016.
Dr Andrew Crompton, head of architecture at University of Liverpool, described structures as "objects of fashion".
"The time when you most want to pull a building down is the time when you have to think very carefully," he said.
"It's like throwing away your toys and then growing up and wishing you had them again."
Bournemouth's IMAX was voted one of the UK's most hated buildings in 2005 on Channel 4's Demolition, along with Rugby's cement works and the Trinity Centre car park in Gateshead.
Dr Compton described the glass-fronted cinema as "truly ghastly".
However, not everyone agrees and Bournemouth resident Brian Jenner, who started a campaign to save it on Facebook in 2010, described its demolition as a "day of shame for Bournemouth".
Cambridge architectural historian James Campbell said structures have to "adapt and keep up to date".
Westlegate House in Norwich is one building which is set for a new lease of life next year.
The 1959 "eyesore" tower block is currently being transformed into "luxury apartments" as part of an £8m revamp due to be completed in the spring.
However, Mr Campbell said: "If we are forced to make an argument as to why we should keep a building, one really has to question whether it was great architecture in the first place.
"Sometimes we have to accept that some of it has to go."
Water Eaton's grain silo demolition makes way for a new Oxford Parkway railway station.
As it was being levelled some people took to Twitter, including @mswainwright who said: "Water Eaton grain silo is coming down at last. Inexpressible joy. But let's keep the Enslow cement chimney."
'Dated and dark'
Mr Campbell said some of the Victorian structures we now consider "beautiful" were not seen in such a favourable light at the time they were built, including railway stations.
Dr Compton agreed: "St Pancras Station was considered ugly by the Victorians but it was saved and is now one of the most glamorous buildings in England, becoming the scene in recent years of the Harry Potter books and films."
One railway structure which did not fare well was the Euston Arch which was built in 1837.
The London station's original entrance was demolished in the 1960s in favour of "something which looks more like an airport", according to Dr Compton.
However, much of the original stone has now been located and The Euston Arch Trust hopes it can be reconstructed as part of a planned HS2 station revamp.
The current tourist towns are the ones which were "untouched" during the industrial revolution, such as Bath and Cheltenham, according to Dr Compton.
He said 1960s structures "are the ones we have to fight to save now", citing Preston Bus Station, completed in 1969, as the "most important".
"It's iconic like the Taj Mahal and Eiffel Tower," he said.
However, Preston resident Jennifer Gwillam, 34, said it was a "dated, dark, awful place - definitely an eyesore".
Recently, it was the subject of a short film, co-produced by Paul Adams who said it was "a perfect example of a building which went from being hated to being loved again".
"Very often the buildings which are designed well and have a lot of care put into them go out of fashion," Mr Campbell said.
He cites the old Birmingham Central Library, designed by architect John Madin and completed in 1974, as a prime example.
"These types of Brutalist buildings were designed to show what concrete could do and architects wanted them to look like concrete," he said.
The Prince of Wales once described the library as looking like "a place where books are incinerated, not kept".
It was refused listed status in 2009 and after closing in June it is now set to be demolished next year.
English Heritage recommends which buildings should be listed and final approval is granted by the Secretary of State.
Emily Gee, head of designation, described the process as "very vigorous".
A building needs to be at least 30 years old before it is considered but she said "the closer it gets to our time, the higher the bar".
She added although listed status does not give a building immunity from demolition it does ensure that the "special historic and architectural interest of the building" is taken into account in any future planning decisions.
Dr Compton said places such as Darwen and Accrington in Lancashire, which are preserving their 1960s architecture, will be "the tourist towns of the future".
"All the places that are tearing them down, like Birmingham, will be forever ruined," he added.
"It is not for us to destroy things which we should be handing over to our children."