Anglian Water pledge: Rises below inflation up to 2020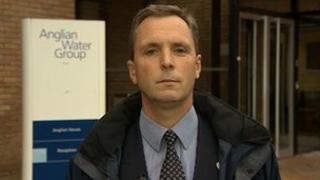 Anglian Water has confirmed a pledge to keep bill increases under the rate of inflation up to the year 2020.
A business plan submitted to Ofwat also reveals the company will target extra help for customers who struggle with bills.
If inflation stays at 3%, an average bill would rise from £440 in 2014/15 to £468 in 2019/20, the company said.
Ofwat said Monday was deadline day for firms to submit plans and it would not comment until they were assessed.
If inflation rises above the forecast of 3% during 2015-2020, Anglian Water promises to absorb half the increase to a maximum of 4.5%.
Inflation would push the price upwards but in real terms the firm promises a fall.
New tariff
"We hope our pledge to peg back bills for the next six years, and to protect them from higher inflation, will offer help and give reassurance to our customers," said Peter Simpson, Anglian Water's CEO.
"Priority will also be given to target extra help for vulnerable customers.
"A new tariff will be established to help those who struggle to pay, and from 2015 the Anglian Water Assistance Fund will be boosted by 25%, to put £1m a year aside to help those customers who need the most help and support to manage debt."
Anglian Water serves properties in Buckinghamshire, Bedfordshire, Cambridgeshire, Essex, Hertfordshire, Lincolnshire, Northamptonshire, Norfolk and Suffolk.
Stewart Jackson, MP for Peterborough, welcomed the pledges when many people were under financial pressure.
He said: "My constituents are feeling the pinch and will welcome Anglian Water's decision on prices being reasonable and below the rate of inflation, not least because they are a monopoly supplier and consumers have no choice but to use their services.
"Anglian understands the need for fairness and good community relations as well as shareholder value.
"The focus on vulnerable consumers is the right thing to do and will be appreciated by all bill payers."