Alfred Wainwright sketch of Brockhole centre discovered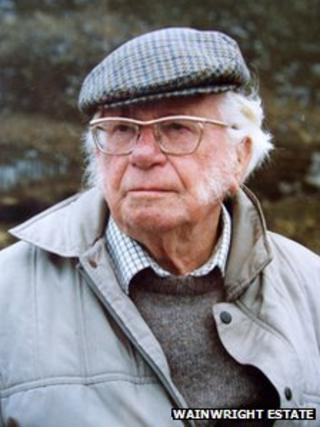 A 40-year-old sketch by the fell-walker and guide book writer Alfred Wainwright has been discovered in a cupboard.
The pencil-drawn picture is of Brockhole, the Lake District visitor centre at Windermere, where a Wainwright story box collection is now on show.
The sketch was recently found in the Edwardian building and has gone on public display for the first time.
Wainwright wrote seven lakes guides, which have sold two million copies.
He also produced around 40 books, including A Fifth Lakeland Sketchbook.
Catalogue archivist, Hazel Gatford, said: "Wainwright took two photographs of the house and glued them together to produce this sketch.
"He drew the house again from the front about two years later for his 1975 book Westmorland Heritage."
Wainwright was awarded the MBE for his work, and died in 1991 at the age of 84. The exhibition runs until spring 2014.