Fraud probe solicitor Peter Maine 'may have stabbed himself'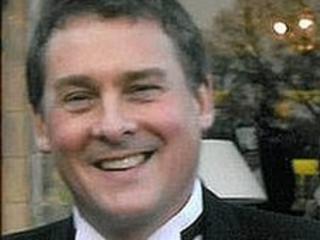 A lawyer being probed over fraud allegations who was found dead may have stabbed himself, police have revealed.
Father-of-two Peter Maine, 56, from Wynyard, Stockton, was found in his running kit near Maiden Castle Sports Centre, Durham, on 1 September.
Officers said they were keeping an open mind but one theory is that his wounds were "self-inflicted".
No weapon was found and one line of inquiry is that Mr Maine disposed of it before he died.
Mr Maine was one of a number of people arrested by police as part of a long-running investigation into alleged mortgage fraud.
In October, 14 were charged in connection with alleged fraud offences, Durham Police said.
'Self-inflicted'
Det Ch Insp Steve Chapman said he was not ruling out the possibility that someone else was involved in Mr Maine's death.
"From day one we have always acknowledged the possibility Peter's wounds may have been self-inflicted, and that remains the case," he said.
However, there are other equally plausible lines of inquiry, which include third party involvement...
"No conclusions have been reached and I remain focused on all reasonable scenarios."
More than 30 people who were in the Maiden Castle area on the morning of Mr Maine's death have been interviewed, police said.
Numerous searches of the riverbank and water have been carried out but no weapon has been found.