Npower job cuts announcement fuels UK energy debate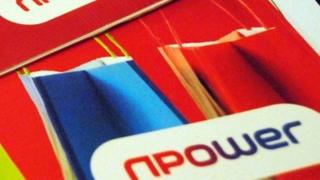 Npower's announcement that it was shedding 1,400 jobs across the UK has fanned the flames of Britain's energy debate again.
Labour has been putting the boot into energy suppliers for months now for overcharging and profiteering.
So the party's MPs were only too willing to don their metaphorical toe-capped boots again when news of Npower's plans began to leak out.
Jobs going
In the end when the company revealed the full details of what was planned in the north-east of England, it wasn't quite as bad as those leaks suggested, although still grim news for some.
There had been talk of more than 1,000 jobs going.
In the end Npower did announce 430 redundancies in its offices in Rainton Bridge on Wearside. Those roles will be outsourced to India.
Other offices in Peterlee in County Durham, and Thornaby in Teesside will close, but their workers are being offered jobs on other sites.
Around 500 workers will also be transferred to the outsourcing firm Capita.
Nevertheless Labour MPs were not mollified.
Bridget Phillipson, whose Houghton and Sunderland South constituency includes Rainton Bridge, said: "The announcement from Npower is a devastating blow for staff at Rainton Bridge, especially with Christmas just around the corner.
"Over 400 families face the prospect of going into the new year trying to secure work in an increasingly tough jobs market.
"I want to see Npower taking responsibility for its decision. They need to put in place a support package that goes above and beyond what is required by law."
Maximise profits
Alex Cunningham, who represents Stockton North, was concerned about the impact the Thornaby office closure would have on the town's economy.
He said: "Npower is one of the biggest employers on Teesside, and we are losing jobs that are vital to our local economy so we must do something to persuade the company to change its mind.
"But they are only interested in profit, as we have seen from their huge price increases in energy prices in recent times. All they want to do is maximise their profits.
"They do not care about the local economy and they certainly don't care much about their customers."
Those are charges rejected by Npower. It says the restructuring is about cutting costs and keeping bills down, but also about improving services to customers.
The company regularly comes near the bottom of satisfaction surveys in an industry that's already held in low public esteem.
It hopes to change that.
Gareth Pickles, Npower's customer service director, said: "Our commitment to the North East remains very strong - there'll still be around 3,500 people in the region helping Npower customers every day.
"As a business, we're operating in extremely tough times and we've had to look at what's right for the long term future of the company. We also have to keep our costs as low as possible when our customers are seeing bills going up due to a range of external factors."
Cheap populism
I'm guessing customers seeing their bills go up by around 10% this weekend might not be too sympathetic.
But Stockton South's Conservative MP James Wharton was not as gloomy as his Labour counterparts.
Npower's Thornaby office is in his constituency, and while he is not happy that it's being closed, he is reassured that at least all the employees are being offered jobs elsewhere.
He's been told Npower will also provide help with transport and extra expenses for three years for those that do choose to move.
And while he does want to see more competition in the energy market, he believes the region's Labour MPs are just intent on cheap populism.
He said: "There is a big issue here about the way our national debate engages with the problem of energy. We have seen a lot of politicians making cheap populist points to try and win over easy votes and support over energy prices and companies.
"The reality is that will impact on jobs, it will impact on our infrastructure, and it will impact on share prices. Those shares play a big part in our investments and pensions.
"These are very complex issues and are not easy to resolve. What we have to do now is make sure that the people who work in places like Thornaby are given as much protection as possible and their interests are looked after."
Swallowed up
But Npower's presence in the North East exposes another interesting issue.
The firm is owned by German energy company RWE, but Npower itself contains the remnants of some of the suppliers that pre-dated privatisation.
The North East Electricity Board was done away with in 1990, and became Northern Electric, before eventually being swallowed up in Npower.
Those local roots are largely historical now but there is some legacy.
It employs as many as it does in the North East partly because of the Northern Electric link.
And it also has a huge regional customer base.
The firm has a 64% share of the North East energy market - suggesting that many of the customers it inherited from Northern Electric have never switched supplier.
You could see that as a failure of privatisation - or perhaps a head-in-the-sand attitude from consumers
In either case, many will see their bills rise this winter. The Conservatives believe the solution lies in more competition and making switching easier.
Labour is intent on reforming and regulating a market it believes is broken.
Expect much more rhetoric from both sides in what's become a key election issue.