World War One: Donington Hall's pampered prisoners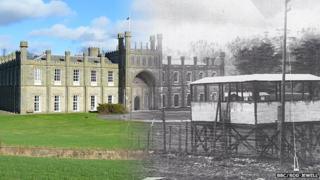 It was a double scandal, a prison camp not only lavish enough the inmates had servants - but also the scene of the only successful escape from the UK.
Questions were asked in the House of Commons, newspapers carried indignant articles and correspondents were dispatched.
During World War One, Donington Hall became a byword for easy living and lax security.
Set in hundreds of acres of landscaped deer park, the mock Gothic stately home on the Leicestershire/Derbyshire border had been turned into a detention camp early in the war.
Intended as a maximum security prison, it was ringed by two barbed wire perimeter fences more than 6ft (1.83m) high - the inner one electrified - with wire traps, watch towers searchlights and a guard house.
More fundamentally however, it was a camp for officers. And total war or not, officers on both sides were guaranteed a certain level of treatment by international treaty.
Local historian Anton Rippon said one of Donington's most striking features was its 90-capacity dining room, based in the old library.
"It was all laid out with silver service cutlery and table cloths, rather like a posh hotel.
"There was a good menu with a choice of options and there was a good wine list - but they could also send home for wine and other things.
Cash allowance
"The local post office had to put extra staff on because so many parcels were sent from Germany.
"And of course they were all waited on by German privates and corporal, who were billeted in huts in the grounds.
"I wouldn't call it luxury perhaps but it was certainly great comfort - and the contrast with the soldiers at the front could hardly have been greater."
On top of this were homely rooms, games of football, cricket, tennis and skittles and a relaxed regime where "the commandant did everything he could to alleviate our hard lot" according to one prisoner.
New arrivals were welcomed with a guard of honour and every Friday the prisoners were lined up to be given a cash allowance - direct from Germany.
Another inmate, the spy Franz von Rintelen, recalled holding his own "wake" following false reports he had been shot.
"The canteen overflowed that evening, and the orchestra played Chopin's Funeral March.
"I drank both red wine and champagne and praised the Lord," he wrote.
The papers got wind of the conditions and - fuelled by tales of brutality in German camps - called for action.
Pressed during a debate in parliament on excessive privileges at the camp, Mr Harold Tennant, the Under Secretary of State, insisted the sale of alcohol was restricted to "light wines and beers" but could not confirm whether quantities were limited.
The arrival - and subsequent departure - of dashing pilot Gunther Pluschow only added to its notoriety.
Gerhard Ehlers runs a website devoted to Pluschow.
Weak spot
"He was a one man airforce for the Kaiser in China but had to flee. In disguise he made his way to the then-neutral US, became something of a celebrity and then tried to return to Germany but was captured in Gibraltar.
"He had mixed emotions when he saw Donington Hall. First of all he was surprised by the quality and the standard he found there but immediately began to plan his escape.
"He looked around noting weaknesses in the fences and felt this was a place he could get out of."
The 29-year-old's impression was confirmed when he saw a deer work its way through the wire.
He then spent time planning his move and teasing useful information out of the guards.
Fatal adventure
During rain storm on the night of 4 July, Pluschow and an accomplice managed to hide from inspections, then simply forced their way through the fences.
Despite being badly cut and having no identification, the pair made it to London undetected.
While his comrade was recaptured, Pluschow, after days of sleeping rough, found a ship going to the neutral Netherlands. As it sailed he swam out to it, climbed a rope and hid in a lifeboat.
When it docked he dodged customs checks and stepped through a staff exit - and into legend as the only person in either world war to make it from a UK prison camp back to Germany.
"When he came back from England he was considered a hero in Germany," Mr Ehlers said. "He was put on a postcard.
"Everything he did with a little smile on his face. He was not steely Gunther, he was more like a boy scout adventurer".
Pluschow's star faded after the war but his thirst for adventure did not. He died in a flying accident while exploring the Andes in 1931.
Despite the controversy about conditions, Pluschow's escape and another breakout using a tunnel, Donington continued as a prisoner of war camp until 1919.
In World War Two, it was again requisitioned by the military, this time as a vehicle depot.
After being passed through a number of hands it is currently the headquarters of Norton motorbikes.