Are Christmas trees getting worse?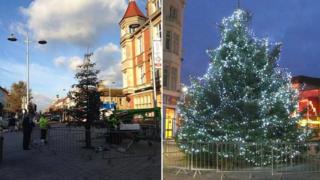 With festive shopping in full swing, town centres have begun switching on their Christmas lights to entice shoppers. But with businesses and town halls strapped for cash have Christmas displays got worse?
Across the towns and villages of England, people are revolting over the size of their municipal Christmas decorations.
In Stockton-on-Tees, a white material "Christmas tree" in the town centre has left locals feeling "ashamed", according to the local paper.
And in Clacton councillors have removed a spindly 12ft (4m) tree - christened the "Christmas twig" - deeming it "not man enough" for their Essex town.
But have displays got worse or is tinsel-tinted nostalgia clouding Christmas judgement?
Sam Jordison, editor of the Crap Towns series of books, believes town displays seem to have got worse as people's home displays have got better.
"It's pretty hard for councils to compete," he said. "Christmas lights are inherently crap anyway - what are people expecting? How are they are not going to look tacky?
"I can understand why people care, as anything that attracts people to local shops is a good thing and I can well imagine that with budgets being cut that they're getting less impressive.
"And a bad display looks really bad - a few lights bulbs on a string that are not brightening anything up draws attention to the fact they are low budget."
Some towns and cities, like Canterbury, have made the decision to scrap their lights altogether rather than persist with sub-standard ones.
"It was inevitable that this day would come", said John Gilbey, leader of the city council.
"Christmas lights were a nice thing to do when we had money.
"But now they are not of sufficient quality to make a difference and there is simply no cash to invest in new displays. Instead of persisting with something sub-standard, the only option left is to stop doing it."
Critics would argue that some festive decoration is better than none.
But a glance north to the coastal town of Herne Bay offers a lesson in what can go wrong.
Last year the Kent town's decorations were deemed so bad that some of the crowd booed when the lights were switched on.
One solution is to find a sponsor for the decorations. London's Regent Street has followed this policy for years and now Luton has caught up with the act.
After the council announced its Christmas lights were under threat, Easyjet - the biggest operator at Luton Airport - stepped in to save them, although part of the deal was that some lights would be orange.
The lights, which are due to be switched-on at a ceremony on Saturday, would have cost the council £13,000 to £15,000 to run.
Despite festive lights slipping down many councils' Christmas wish lists, they are still seen by many as an essential means of attracting festive shoppers into high streets.
Dr Alan Bradshaw, a senior lecturer in marketing at Royal Holloway University of London, said: "If I owned a shop I would be worried if there were no Christmas displays or lights, especially if neighbouring boroughs or high streets had invested in them.
"At the early stages of the Christmas experience it builds up the mood."
With just over two weeks of Christmas shopping left, it is yet to be seen whether shoppers will be deterred by England's "Christmas twigs" or unlit town centres.
But, according to Dr Bradshaw, perhaps a little less in terms of lights might prove to be a little more in terms of sales.
"Christmas shopping can be quite a manic affair, not everyone wants the extra atmosphere," he said.
"Shoppers can feel manipulated and retailers have to be aware not to push their customers too much.
"There's a tipping point between generating a festive atmosphere and going over the top."