Domenico Rancadore: Mafia boss has bail overturned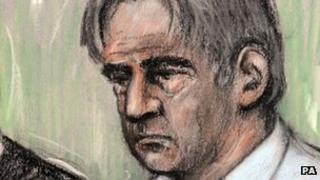 A Mafia boss has had his bail overturned by the High Court and will now be held in custody until his full extradition hearing.
Domenico Rancadore, 64, was arrested in London in August after going on the run from Italian authorities for 14 years.
He was given bail on Monday by Westminster magistrates.
The Crown Prosecution Service appealed against this, but the hearing was delayed until Thursday after he was taken to hospital with heart problems.
Lord Justice Goldring, sitting at London's High Court with Mr Justice Ouseley, said it was clear that he had a heart condition and it was something which should be considered.
Family name's 'stigma'
But he added there was "a real risk - indeed a very real risk - that he would abscond if granted bail".
The judge said: "In my view this appeal should be allowed and Mr Rancadore remanded in custody."
In court, his wife Anne Skinner said he would not abscond as they had left Italy so their children could escape Rancadore's family connection to the Mafia.
Mrs Skinner, the daughter of a former Italian consul to London, told the court the children's paternal grandfather, Giuseppe, was a Sicilian Mafia leader.
"When my husband managed to get early retirement, we said we had got to leave, we had got to give our children a better future.
"We could not stay because it was a negative environment for them. Because of the stigma of their surname, everywhere they went people said 'You are Rancadore - your grandfather...'."
She said since they moved to England, she ran her own business while he "helped with the housework".
Rancadore is wanted in Italy over his role as a "man of honour" in the Cosa Nostra, where he collected bribes from builders in Trabia, near Palermo.
The father-of-two was initially acquitted of the Mafia-related crimes after a three-year trial in Italy, and came to the UK in 1993.
But in 1999 he was convicted in his absence of being part of a criminal organisation and sentenced by the Italian authorities to seven years in jail.
He was arrested on 7 August at his home in Uxbridge under a European Arrest Warrant.
The former teacher had been living under the name of Marc Skinner.
The full extradition hearing is due to take place in February.