Deciding what heritage to save is a tough choice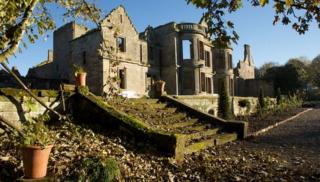 Of all the bits of wonderful heritage near where you live, what would you choose to save and why?
The Heritage at Risk register has 1,151 sites listed as in danger of being lost in the North East and Cumbria.
The simple truth is there isn't enough cash to ensure they are all protected from further deterioration.
That means we have to make choices.
In Restoring England's Heritage (BBC One at 19:30 GMT, Thursday, 5 December, 2013) I'll be travelling around the region finding out what that means in practice.
Mining our heritage
The Dunston Staithes dominate the River Tyne in Gateshead.
They used to lead coal trains out over the water to pour their loads into ships moored alongside.
As a powerful reminder of our mining heritage they stand proud over the landscape.
But since they were abandoned with the demise of the coal industry they've been sadly neglected and have fallen victim to vandalism and two fires.
For the most part the 120-year-old wooden structure has survived.
In the next few days the group hoping to save the Staithes will hear whether its grant application to the Heritage Lottery Fund has been approved.
Long term, the aim is to turn the Staithes into an inland pier.
It could be a real attraction, especially if it proves as popular as New York's High Line - an aerial park created out of an old elevated freight line.
Success story
Ten years ago Gayle Mill near Hawes in North Yorkshire was a runner up in the BBC's Restoration programme.
Although it didn't win, it did eventually secure funding to save the derelict building.
It is now working again, staffed by volunteers.
The last remaining saw mill in the valley pays its own way and has a sustainable future.
Vital link
For those living on either side of the River Tweed near Berwick saving their historic bridge is not just about beauty.
When the Union Bridge was built at Horncliffe in 1820 it was the largest wrought iron suspension bridge in the world.
It still carries single file traffic. After each vehicle passes it's disconcerting to see the deck sway and wobble.
That motion is normal, but the iron supports are rusting and holes are starting to appear in the roadway.
For the Chain Bridge Honey Farm the state of the bridge is never far from their minds as their hives are on both the English and Scottish sides of the river.
At the moment there are no plans to spend money on it.
If the bridge ever closed the local community would face a long detour.
DIY restoration
In Cumbria barrister Christopher Boyle decided he'd rescue a fine 17th Century house by paying for it all himself.
He's taken on a roofless shell of a building that's had a rather colourful past.
The Victorians decided to embellish Kirklinton Hall and expand the original house.
In the 1960's it was a casino and nightclub that reputedly once had the Kray Twins on the guest list.
Christopher hopes he can make it into a home once again, but it will be when his young son is grown up and has a family of his own.
Patience is a virtue, as are deep pockets.
If you rely on public funds then choices have to be made.
Right choice?
Although there was a considerable lobby to retain Gateshead's infamous "Get Carter" car park it succumbed to redevelopment.
The original architect Owen Luder returned to Trinity Square for our programme.
Lots of people did detest his brutalist construction yet he wonders whether given a few more years, the tide of fashion would have brought his concrete multi storey car park back in vogue.
If you're going to replace an iconic building you do have to ask whether what you're replacing it with is as good as, if not better, than what stood there before.
Let's see if the student flats and shopping area are still there in 50 years time.
A stable future?
In Hexham developers wanted to get rid of the old railway goods stable.
It has now been removed - but it will eventually reappear.
It has been dismantled brick by brick and is being stored 20 miles away at Beamish Open Air Museum.
When they have the funds they will reconstruct it - just as they have done with the other impressive buildings that attract thousands of visitors keen to see how we once lived.
When money is tight we have to choose between the myriad of heritage projects that are crying out for help.
Over to you
It begs the question; should we save something just because it's pleasing on the eye?
Should we instead favour buildings that have a modern use?
Perhaps the deciding factor should be to ask whether it represents something of significance from our social history.
So I come back to my original question. Of all the bits of wonderful heritage near where you live, what would you choose to save and why?
Add your comments below to let me know.
Restoring England's Heritage is on BBC One North East & Cumbria at 19:30 GMT, Thursday, 5 December, 2013 and nationwide on the iPlayer for the following seven days.