Npower confirms North East job losses in 'restructure'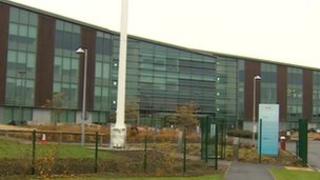 Npower's decision to cut more than 400 jobs in the North East is a "cruel blow" for the region, a trade union has claimed.
Staff based at Rainton, near Sunderland, will be made redundant while hundreds of others will be expected to move sites or transfer to an outsourcing company.
Offices in Thornaby on Teesside and Peterlee in County Durham will close.
Chris Jukes from the GMB said the local jobs market was "very difficult".
"We need agencies to work together to make sure these people don't go from £20,000-per-year jobs on to benefits or minimum wage jobs," he said.
Town centre hit
Npower said the 430 staff affected in Sunderland would be offered "enhanced redundancy terms".
Paul Watson, leader of Sunderland City Council, described the announcement as a "bitter blow".
"Being told that you're about to lose your job is a devastating experience for anyone, and it's all the more sad that this is happening just a month before Christmas," he said.
More than 600 staff based in Peterlee and 500 from Thornaby will transfer to the company's North East base at Rainton Bridge Business Park.
Businesses in Thornaby town centre fear trade will be badly hit.
John Fox from Roberts Family Butchers said the entire Pavilion Shopping Centre would suffer.
"A lot of the staff come every day," he said. "A lot of people who work there don't actually live in Thornaby so it's convenient for them to come into the shopping centre.
"It will affect the town centre, without a shadow of a doubt."
'A big ask'
James Ramsbotham, chair of the North East Chamber of Commerce, said the decision to close sites and outsource work was evidence of a "cost of doing business crisis" and warned Npower would suffer "reputational damage" in the region.
Npower said it would consult with staff before making final arrangements on providing options such as bus travel between Thornaby and Rainton, but Mr Ramsbotham said the upheaval would be a "big ask" for staff.
Les Hodge from Thornaby said four members of his family would be affected by the decision.
"I also know many friends who have given up other jobs to go to Npower thinking it was a safe job.
"This idea that there's only going to be 430 losing their jobs, I daresay it's going to be a lot more than that. People just can't afford to travel. It always seems to be the North East that tends to suffer."
Npower said its commitment to the region "remained strong".