Stansted emergency landing: Pair cleared of plane endangerment charge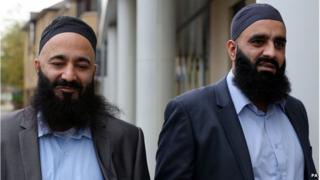 Two men have been cleared of threatening to blow up a plane at 30,000 feet.
Chelmsford Crown Court had heard how the Boeing 777 landed at Stansted Airport in Essex in May.
Tayyab Subhani, 30, and Mohammed Safdar, 42, both of Nelson, Lancashire, denied endangering the safety of an aircraft.
The jury were instructed to find the two men not guilty by the judge.
During the trial, the court heard fellow passengers had been annoyed when the PK709 flight from Lahore to Manchester was diverted to Stansted over a "trivial incident".
It had been claimed Safdar, supported by Subhani, made threats to kill crew and passengers after an argument broke out with air stewards.
Judge Charles Gratwicke described the case as "tenuous and peppered with inconsistencies".
He added: "Under the circumstances no jury can properly convict these men."