Michael Chopra: Drug bust cash was 'footballer's debt payment'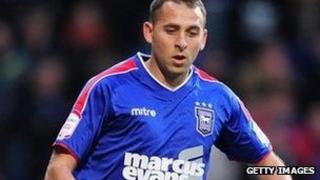 A £50,000 stash of money at the centre of a drugs bust was a debt repayment from a footballer who had a gambling habit, a court has heard.
Blackpool's Michael Chopra, 29, a witness in a £750,000 cocaine trial at Newcastle Crown Court, told jurors he had been pursued by loan sharks.
Prosecutors allege money found in the foot-well of a car was drug money, but jurors heard it belonged to Mr Chopra and was due to be paid to creditors.
Four men deny drug charges.
The striker, who estimated he had lost about £2m through gambling, is a witness at the trial of four men charged in relation to an alleged drug factory in north-east England.
'Helped with debts'
Daniel Chisholm, 51, of Sunderland; Christopher Bacon, 34, of Sunderland; John Somerville, 53, of Newcastle; and Joseph Lewins, 55, of Washington, are all accused of being involved in the drug scam.
All four men have pleaded not guilty to conspiracy to supplying cocaine.
Mr Somerville said he had often helped Chopra deal with his debts.
He said he took the footballer's money and then had it sent to the people he owed in Liverpool, jurors were told.
Mr Chopra, who signed for Blackpool last summer, denied he had come to court to lie for Mr Somerville.
The former Newcastle United, Sunderland, Cardiff City and Ipswich striker told how he was targeted by loan sharks during his time at Ipswich Town.
'Team bonding'
"They came up to me and asked me for my autograph and said I better get myself into the club and get that money now.
"They said they knew what car I was driving and they would follow me until I paid them. They said they knew what school my little boy went to and where my parents lived and where I lived in Ipswich.
"I felt sick that I had put my family in that situation from my gambling," he said.
The footballer said a year after making his debut for Newcastle at 17, he had racked up debts of tens of thousands of pounds.
"Players would gamble on the bus and I got involved. We would take thousands of pounds on to the bus, anything up to £30,000," he told the court.
"It might change hands playing cards on the bus, we would go to the bank before and take out the money. It was part of team bonding."
Chopra told jurors he signed for Sunderland from Cardiff to use the signing on fee to pay off his debts.
"When you go to the Premier League you earn more money," he said.
The trial continues.