School anxiety over spectre of pre-Christmas Ofsted inspections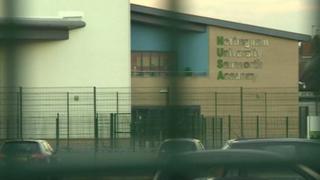 It could almost be a scene from Dickens' seasonal favourite A Christmas Carol.
Certainly, festive cheer may be in short supply in some of Nottingham's secondary schools in the weeks leading up to the Christmas holidays.
Marley's ghost - in the shape of an Ofsted inspector - appears to be spooking the city's politicians and teachers.
They're even warning of a slump in staff morale after a coordinated wave of Ofsted inspections at several city schools. One Labour politician has described the checks as "destructive, crude and crass" - sharp words indeed.
Ofsted (Office for Standards in Education) has considerable clout these days. It can make or break a head teacher's career and the reputation of a school.
That's why the swoop on eight Nottingham schools by Ofsted inspectors two weeks ago, has caused real anxieties. It was described to me as a "blitz".
Ofsted 'bullying'
There was a similar Ofsted blitz on schools in Lambeth, Northumberland, Norfolk and Suffolk earlier this year. That's because of long-term poor education results in those areas.
In the East Midlands, 26% of the region's schools are deemed to be requiring improvement. Nationally, that figure is 19%.
But Nottingham's track record, says Ofsted, is noticeably worse than both the regional and national average.
My understanding is that the Nottingham schools that Ofsted inspected are: Djanogly City Academy; Nottingham University Samworth Academy; Bulwell Academy; Big Wood School; Hadden Park High School; Farnborough School Technology College; and Ellis Guilford School.
There's an eighth school that's yet to be identified.
They include both city council-run schools and academies, state-funded but independent of local authority control.
But the real agenda, say Labour, is to make all of the city's schools academies. One senior Labour source described Ofsted as "bullying".
Not so, says Conservative city councillor Eileen Morley who told me the Ofsted inspections were long overdue.
"If anything, it's been tardy," she added.
"Nottingham has a poor record of attracting high-calibre head teachers from applying for jobs.
"The scale of the Ofsted inspections will cause uncertainly, but it's a sign that Ofsted realised that there are serious problems.
"Too many children are leaving school without the basic skills in reading and maths."
The big worry for the schools and their head teachers is whether Ofsted will put them into "special measures". Ofsted isn't going to be drawn on the outspoken criticism of a Labour politician, but readily explains the procedure if a school has failed.
That involves heavy duty checks on improving and monitoring performance.
The school has to submit a "plan of action" on addressing concerns highlighted by Ofsted inspectors, and that can be followed up by five additional inspections to check on progress.
And if the school is deemed to be in special measures after two years, the Department for Education has the power to close it down.
Nottingham's schools will hear their fate just before they break up for those Christmas holidays.
Little wonder that for the teaching profession, the arrival of the Ofsted inspector is as welcome as Jacob Marley.