Trafford General Hospital's A&E closes despite campaign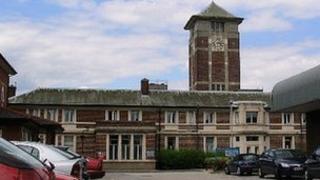 The A&E department of the hospital where the first NHS patient was treated has closed despite a campaign by residents to save it.
Trafford General Hospital, which had the second smallest A&E in England, is being downgraded as it was used by too few patients.
The Department of Health has given nearby Wythenshawe Hospital £12m to help it cope with extra demand.
Campaigners said patients will face longer journeys to other hospitals.
The hospital's A&E has been downgraded to an urgent care centre, which will now close between midnight and 08:00.
On average, it was seeing 12 people overnight and seven people an hour at busy times.
'Clinical benefits'
A decision to further downgrade it to a minor injuries unit would depend on the future development of integrated care services, said a hospital spokesman.
Health secretary Jeremy Hunt previously admitted some patients will have to travel further but claimed the "clinical benefits outweigh the disadvantages of travel times".
Protesters, who set up the Save Trafford General group, said other local hospitals were already stretched to capacity.
Health officials said they would receive extra investment and Trafford will also become a specialist orthopaedic centre.
A Department for Health said: "There is clear clinical evidence that the locally-driven changes to Trafford General Hospital A&E will benefit patients in the long term - ensuring South Manchester A&E services are fit for purpose.
"Trafford will continue to see 75% of current patients while an estimated 25 patients a day will go to neighbouring A&Es."
Then named Park Hospital, it was the first NHS hospital opened by the Minister for Health, Nye Bevan in 1948.