Scotland independence vote prompts northern power games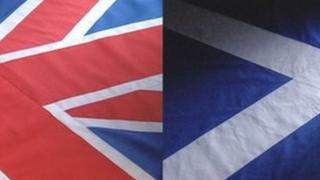 Nobody in the north-east of England will have a vote in next year's Scottish independence referendum.
But be in no doubt that many in the English region closest to the border are keeping an eye on their northern neighbours.
There are politicians and business leaders in the North East who see an increasingly-powerful Scotland as an economic rival.
But one former Labour believes northerners need to become a bit more Scottish.
Northern party
Hilton Dawson represented Lancaster and Wyre until 2005, but he was born in Northumberland and has now returned to the North East.
He believes the region needs its own northern political party, modelled on the success of the Scottish Nationalists.
The former MP isn't pushing for the north to become independent, but he does believe there is a need for English devolution.
He believes a powerful regional assembly could offer the North East a way of competing both with Scotland and the south of England.
He said: "We see the Scottish economy taking off, and that country having a new sense of self confidence and a reinvigorated democracy.
"Compare and contrast that with a North East that has the highest levels of poverty and social deprivation, and is routinely ignored by the people that make the decisions 300 miles away.
"There is ill-feeling about the contrast just yards over the border in some places. That's why we need to act now."
Badly burnt
But this debate is not new. The North East was offered a regional assembly by John Prescott in 2004.
He and its northern supporters were left badly burnt when almost four out of five of the region's voters rejected the idea.
Hilton Dawson believes what was on offer was too weak to win over voters.
But Labour is reluctant to revive the idea in any form. Ed Miliband ruled out the return of regional assemblies to me earlier this year.
City of Durham MP, and shadow communities minister Roberta Blackman-Woods also believes there's no public clamour for an assembly or a North East party.
She said: "I do not think there is any democratic mandate for a party that would specifically represent the North East. The region already has a number of MPs and local politicians that represent its interests very well."
But the north wasn't always as reliant on influence in London. For many centuries, the Prince Bishops of Durham were granted considerable power to govern the region.
They had the right to mint coins, levy taxes and even raise an army.
They also had a crucial role in defending England's border from any Scottish threat.
And when I spoke to people on the streets of the Prince Bishops' former County Durham ancestral home of Bishop Auckland there were a number hankering after more power for the region. Quite a few talked about being ignored by politicians in London.
There was though less enthusiasm for the idea of a regional assembly, with some fearing it could threaten the further breakup of the United Kingdom.
Combined authority
But there might be other methods of developing a North East power base.
Seven of its councils are planning to co-operate in a new combined authority stretching from Berwick on the Scottish border to Barnard Castle on the North Yorkshire boundary.
They won't merge, but they will work together more to gain more clout.
The council leaders hope to persuade the government to move power and funding for transport, housing and skills from Whitehall and Westminster to the region.
They say that could help rebalance England, but, just like the Prince Bishops, they also have half an eye on Scotland.
Durham County Council leader and proposed authority chair Cllr Simon Henig said: "We are talking about existing local authorities working better together, and the pressure to do so is increasing all the time because of the economic challenge we face on our northern border and also from the south of England.
"We have to change the way we work together. We have got to do things better because it is senseless for councils to compete against each other."
And given the regional assembly debacle, it does seem likely that any English devolution is likely to be based on existing organisations rather than new ones.
Campaigners for an English parliament though are convinced that any move towards regional power will further damage the country's cohesion.
But there's no question what's happening in Scotland is posing questions for England, and for the north in particular.
The Prince Bishops feared invasion, now people in the North East are weighing up whether the Scottish independence referendum poses a threat or offers an opportunity for change.