Hamzah Khan: Social workers had 'limited involvement'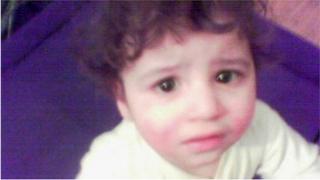 Concerns about the family of a boy who starved to death were not strong enough to "trigger" an investigation, a social work expert has said.
Prof Nick Frost said social workers had "limited involvement" in Hamzah Khan's case.
Hamzah's body was found in his Bradford home in 2011, almost two years after he died. His mother Amanda Hutton was later jailed for manslaughter.
Prof Frost was responding to government criticism of the serious case review.
The review, published on 13 November, said Hamzah had been let down by "national systems" but concluded his death could not have been prevented.
No referrals
However children's minister Edward Timpson, said he had "deep concerns" about the transparency and comprehensiveness of the report, which he said contained "glaring absences".
He asked Prof Frost, of Bradford Safeguarding Children Board (BSCB), for answers to 10 questions, including why Children's Social Care in Bradford did not carry out full assessments of Hamzah's siblings when concerns were raised about school attendance, GP registration, and domestic violence.
A detailed response has been published on the BSCB website, which details the family's involvement with police and social services, including:
When Hutton was approached about her older children's attendance at school it quickly improved.
Police were satisfied with the condition of the children and the home when they made visits in the years before Hamzah's death in December 2009.
When Hutton claimed her youngest children, including Hamzah, were living with relatives in Portsmouth her older children corroborated the story.
From December 2009 to January 2011, Children's Social Care received no referrals about the family.
Prof Frost said it was important not to apply "current knowledge, retrospectively".
'Impact on resources'
"Your questions in the main focus on the role of Children's Social Care during this time: Children's Social Care had limited involvement in the family due to a lack of reporting of any serious concerns," he wrote in a letter to Mr Timpson.
"No injuries or evidence of significant harm have ever been seen or reported in relation to any of the children.
"The threshold of concern was not reached within agencies to trigger a child protection investigation, under Section 47 of the Children Act, 1989.
"If expectations are changing and agencies are expected to significantly lower this threshold, this will have a great impact on resources nationally."
He added the serious case review had lacked detail to protect the anonymity of Hamzah's siblings.
Writing back to Prof Frost, Mr Timpson said: "It is not my responsibility as children's minister to pass judgement upon the actions of individuals or organisations.
"It is my responsibility to ensure that serious case reviews are transparent and complete."