London Midland train driver shortage still 'affecting services'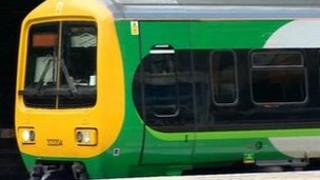 An ongoing driver shortage is still affecting London Midland train services, the company has said.
Figures show that about 20% of its 1,311 daily services were delayed or cancelled throughout October.
Between October and December 2012 the company compensated 25,000 passengers after about 1,000 services were disrupted due to a lack of drivers.
The firm said it was training 53 new drivers which had "eased problems" but staffing "was still an issue."
"We haven't got all the drivers that we need but we've got a lot more than we had this time last year," said head of communications, Francis Thomas.
"We had a lot of drivers leave because of retirement, ill health or going to work for other train companies so we're now focused on keeping our driver training school full and it's already making a difference."
The company said it took a year to train a new driver.
Figures show on average the company had to cancel about 1,000 trains from the 37,000 it runs each month since May.
London Midland mainly operates services across the West Midlands but also runs services to Liverpool and London Euston.