Gay snub B&B owners: How does faith fare in court?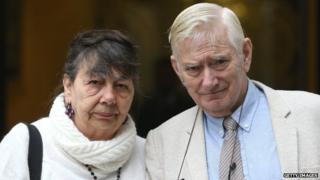 A Christian husband and wife who refused to allow a gay couple to stay in their B&B have lost their appeal at the UK Supreme Court, but how does faith fare in court?
In 2008 Hazelmary and Peter Bull refused to let civil partners Steven Preddy and Martyn Hall stay in a double room at Chymorvah House in Marazion in Cornwall.
Mr and Mrs Bull said they regarded sex outside marriage as a "sin".
However, a judge at Bristol County Court ruled they acted unlawfully. This decision was upheld at the Court of Appeal and now the Supreme Court.
But how does faith fare in the British courtroom when religion is in the dock?
British Airways cross ban
In January, after seven years of fighting, Nadia Eweida won the right to wear a cross visibly while at work.
She was suspended from BA in 2006 after she refused to remove her cross when she was asked to do.
Her appeals were turned down by BA and she lost her case in several UK courts, before the European Court of Human Rights (ECHR) ruled that her rights had been violated.
BA said it changed its uniform policy in 2007 allowing Miss Eweida and others to wear symbols of faith.
Cornish beekeepers
Beekeepers Graham and Abigail Blackburn won the right to not file online VAT returns after they argued their faith prevented them from using computers at home.
The couple, who are are members of the Seventh Day Adventist Church, reject the use of computers, the internet, televisions and mobile phones in their home.
They believed the contents of some TV programmes and websites were "contrary to the Bible's teachings".
Most businesses are required by law to file their VAT returns online.
However, a tribunal ruled that by refusing an exemption HMRC had breached the couple's right to manifest their religion.
The tribunal verdict meant the couple were permitted to file their VAT returns on paper, subject to any appeal by HMRC.
School uniform
It was a fight over a school uniform that went to the highest court in the land.
Shabina Begum was 15 when she was excluded from Denbigh High School in Luton after she refused to wear the shalwar kameez (trousers and tunic) which the school allowed Muslim pupils to wear.
She said it "did not satisfy Islamic clothing" and wished to wear a full length gown called a jilbab.
She initially won her case in the Court of Appeal, arguing that the school had prevented right to manifest her religion.
However, the school appealed this decision at the House of Lords and won the case.
Civil partnerships registrar
Marriage registrar Lillian Ladele worked for Islington Borough Council in London.
When civil partnerships were legalised in 2004, Miss Ladele refused to conduct them, saying it was against her religious beliefs.
She claimed she was subjected to ridicule and bullying as a result of her stance and was harassed and discriminated against by the council.
She won a discrimination case at an employment tribunal in 2008, but this was overturned on appeal by the council.
Ms Ladele then took her case to the Court of Appeal and the ECHR, however, she lost both times.
Face veil in court
The right to give evidence while wearing a full-face veil came under scrutiny in September.
A 22-year-old unnamed Muslim woman, who was standing trial at Blackfriars Crown Court accused of intimidating a witness, had refused to remove her niqab.
She said she would not reveal her face in front of any man in court.
However, Judge Peter Murphy ruled that she could wear the veil during the trial but would have to remove it to give evidence.
The only part of a niqab-wearer's face that is visible is a narrow section across the eyes.