HS2 debate: Train services slower today than 1920s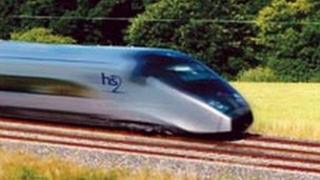 Rail campaigners say train services from some stations in Lincolnshire were faster in the 1920s than today.
The comparison has prompted some to call for urgent investment in the county's railways.
Ninety years ago, passengers could travel direct from Boston to London in around two and a half hours.
Nowadays, travellers have to change at Grantham and the journey takes approximately three hours.
The direct service became a victim of the Beeching cuts in the 1960s.
Author and rail enthusiast Alan Stennett said: "It was one of the fastest pieces of rail track in the country with the trains running in a straight line across the Fens and they could get up to a fair old speed."
It is claimed the UK economy would receive a £15bn annual boost from HS2 and Lincolnshire's economy would benefit to the tune of £115m per year - according to a recent report by KPMG.
But some politicians are not convinced by the proposed benefits of high speed rail.
Victorian infrastructure
Conservative councillor Richard Davies is the Executive Member for Highways and Transportation at Lincolnshire County Council.
Mr Davies said: "Just spending a fraction of the £50bn earmarked for HS2 on our roads, or upgrading our existing Victorian rail infrastructure would get much better returns."
The company responsible for developing Britain's new high speed rail network has hit back at claims there will be little benefit to areas which are not on the route from London to the north.
In an interview for the Sunday Politics in Yorkshire and Lincolnshire - Ian Jordan, HS2 Project Manager for Leeds, Manchester and Heathrow said: "As HS2 is built, it will release capacity on the East Coast mainline.
"That will mean more direct services between Lincoln and London and between Hull and London, plus better regional services."
A hybrid bill paving the way for the first stage of the HS2 route from London to Birmingham has been published in Parliament.